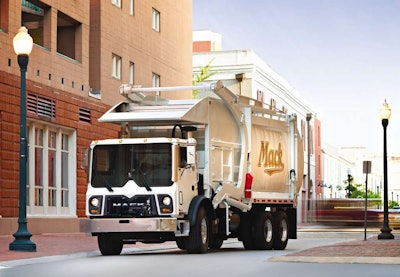 Think you're the best driver in the neighborhood? Prove it, says Mack, who's sponsoring the Driving Skills Safety Challenge May 1 and 2 at the Waste Expo 2012 in Las Vegas. The Challenge allows drivers to demonstrate the skills necessary to safely operate refuse and recycling routes – all while competing for prizes.
It consists of seven events: pre-trip inspection, turning radius and reversing accuracy, to name a few. Competition is open to any show attendee with a valid CDL.
Competitors will show off their skills by driving a closed course in a Mack TerraPro. Scoring's based on safety, accuracy and adherence to safety procedures.
Competition will take place 10 a.m. to 4 p.m. Tuesday, May 1, and 10 a.m. to 3 p.m. Wednesday, May 2 in the Silver Lot No. 4 outside the Las Vegas Convention Center. Winners will be announced Wednesday at 4 p.m.
All competitors will receive a Mack ceramic travel mug and gifts from other sponsors – Allison Transmission, Bridgestone and Michelin. First-, second- and third-place winners will be named in team and individual categories and will receive trophies, prizes and Mack gift cards.