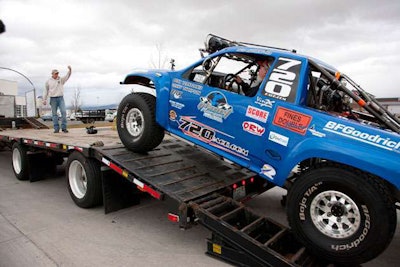 The Shipping Wars reality TV show, launched earlier this year and featuring the work of several hotshot owner-operators competing for earnings by bidding on and moving freight from the uShip.com online marketplace, hasn't exactly lit up the trucking world with interest in the manner of, say, the Ice Road Truckers show at its height, but the same can't be said for the general public.
The show's gotten an extension, uShip reports. "A&E has ordered 26 new episodes of Shipping Wars."
There's a reason for that: After debuting to 3 million viewers in January this year alone, the new show ranks as the network's second-most-watched this year, behind another bit of reality programming, Storage Wars: Texas.
The show will begin its new season this summer.
If you haven't tuned in for it, catch a little of its advance press via a profile I wrote about one of the operators featured on the show, the team of Scott and Suzanne Baucom (ranked highest on uShip's earnings page for the featured haulers) and their Dream Time Transportation business, in Overdrive's January 2012 issue, or check out the series trailer vid over on the Channel 19 blog. And for a bit of the show's flavor: The first season featured the carriers competing to haul a 40,000-lb old wood caboose, a camel, a gyrocopter, two wild bulls, army tanks, theatre props, priceless antique cars, sailboats, a Baja road race truck and a 4,000-lb, 22-foot long, 13.5-feet tall horse statue made entirely of chrome bumpers, among other unique loads.
Find more at A&E's Shipping Wars site.