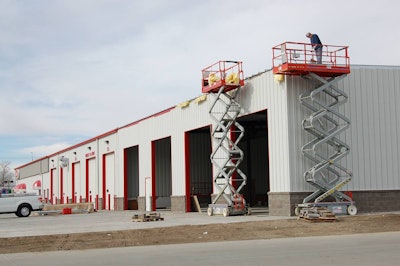 The folks at South Dakota / Nebraska / Iowa-based four-dealer network Sioux City Truck Sales (pbtruck.com) shared this photo with us of construction, now completed, of a new nearly 7,400-square-foot addition to the Peterbilt of Norfolk (Nebraksa) building. Eight new service bays, with a wash bay and some additional parts storage space included, have been added to the east end of the building.
They all opened for business this month at the dealership on U.S. Highway 81 at Monroe St. in Norfolk, Neb.
The addition to the Norfolk building, originally built in 2008, says Service Manager Dennis Zimmerer, is needed to accommodate big growth in customer demand for service. Several additional diesel technicians will be hired to increase staffing. The Parts department will gain approximately 1,700 square feet of floor storage space for large items and 600 square feet of small parts shelf storage within the new addition.
Another aspect of the estimated $2 million project was completed early this year: improving the parking lot and traffic flow. A turnaround lane was paved on the south side of the property to allow trucks to make U-turns in the parking lot. The paving improvements included a larger trailer parking area and an employee parking lot.