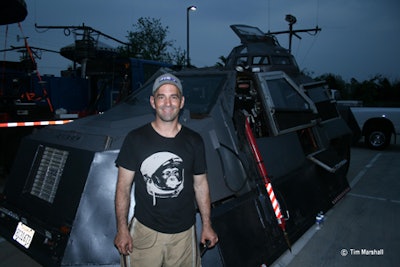 Ever wondered what it's like inside of a tornado? Tonight, you have the chance to find out. Second hand, anyway.
In renewing its Celebrity Series live webcam-based chats tonight, Overdrive sister pub Truckers News brings in one of Discovery Channel's more thrill-seeking members. Storm chaser and filmmaker Sean Casey of the Channel's documentary show Storm Chasers will join members of the Truckers News staff for a 30-minute interview starting at 8 p.m. Central, in which drivers can join in, watch Casey live and pitch questions to him.
Registration is free, and anyone with an Internet connection can participate (click here to register.) The event is sponsored by Chevron.
Casey is responsible for the building of two tornado-chasing vehicles, too – the Tornado Intercept Vehicles, the original model and its successor (one of which is pictured here with Casey). With the TIVs, Casey can film inside of tornadoes, footage from which are the subject of a full-length IMAX documentary Casey made called Tornado Alley.
In 2008, Discover Magazine named Casey one of the 50 "most important, influential and promising people in science."
More information about the chat and how to participate is available on Truckers News website.