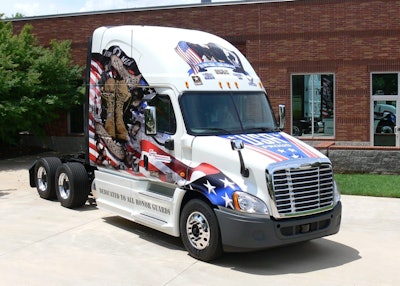 Freightliner Trucks this weekend celebrated its 10th year of participation in the Rolling Thunder Ride of Pride program by presenting Schneider National and Cargo Transporters with new Cascadia Ride of Pride trucks.
Now in its 10th year, the Ride of Pride program was initiated by Ed Keeter, a Vietnam War veteran and former shift manager at the Cleveland manufacturing plant as a way to recognize military veterans.
The Detroit DD15®-equipped trucks feature custom graphics that show support for active duty personnel, veterans, POWs and their families. Developed by HPG Hyperformance Graphics in Hickory, N.C., the design creation was led by Keeter and features images and logos honoring POWs, MIAs, the American Legion Honor Guard and all veterans.
"Ride of Pride symbolizes respect for and great pride in our servicemen and women, and our employees take a great amount of pride in building these trucks," said Michael McCurry, Cleveland plant manager for Freightliner Trucks. "We are so pleased to present Schneider National and Cargo Transporters with these traveling tributes to veterans."
The truck joins Schneider's nationwide fleet of more than 10,000 vehicles. The fleet already includes the 2007, 2008 and 2011 Ride of Pride trucks.
The truck presented to Claremont, N.C.-based Cargo Transporters joins the company's fleet of over 450 vehicles. Cargo Transporters' fleet also includes a Ride of Pride truck from 2010.
The trucks were presented during a special ceremony at the Cleveland, N.C., manufacturing facility where the trucks were built.
Rolling Thunder is a nonprofit organization with the mission of publicizing and educating the public about prisoners of war and those missing in action. Rolling Thunder provides financial aid, food, clothing and other essentials to veterans and their families. The organization also authors or advocates for legislation designed to improve the plights of prisoners of war and soldiers missing in action.