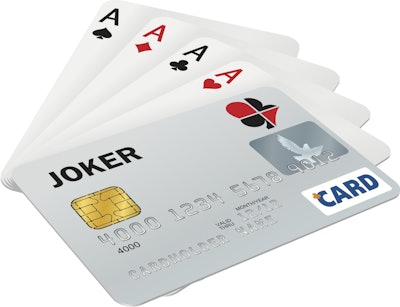 Steve Diamond hoped his second attempt at being an owner-operator would work. But in 2009, the 54-year-old native resident of Mansfield, Ohio, had to scramble to keep a 2003 Freightliner Columbia.
Tips for boosting your credit
•Pay all bills on time.
• If you've missed payments, get current.
• If in deep debt, pay off the balance of one card while making minimum payments on others.
• Stop using credit cards until debt is under control.
• Avoid easy-fix lending products, such as payday loans or so-called checking advance products offered at some banks, which charge annual rates of up to 120 percent.
• Open checking and savings accounts. It shows you plan to pay bills and be responsible.
• If you are having trouble making ends meet, contact your creditors or the nonprofit National Foundation for Credit Counselors at nfcc.org. The agency keeps lists of certified local counselors.
Shortly after he purchased the truck through his carrier, its $1,400 monthly payment got to be too much. It didn't help that he was trying to pay off a credit card balance that had grown at 21 percent when he worked as a company driver for three years and job-hopped after his first go-round at owning a tractor.
Diamond, now leased to Marten Transport, listened to financial advice, made an effort to run more miles and slowed credit card payments. "If you hang in there and work your way through it, it gives you that much more confidence," he says.
In January 2011, he paid off his truck. Now his revenue is 5 to 7 percent higher than it was with his previous carrier in his current work hauling food products.
Diamond was hardly alone in taking on large debt during the recession. While he was able to climb out of it, many owner-operators have been hamstrung by factors such as slow freight, expensive job changes, fuel costs, family illness or other emergencies. A compounding factor for many struggling owner-operators is being stuck with worn-out equipment and lacking the credit to replace it. If you're one of them, there is hope for improving your credit rating by making some smart, disciplined moves with your finances.
As tight credit begins to loosen, owner-operators have even more reason to review their credit ratings, says Eddie Walker of Best Used Trucks, based in Fort Worth, Texas. "Overall, the finance industry is probably 100 percent better than it was two years ago," says Walker, who also serves as an adviser to the Used Truck Association.
Credit scores and interest rates
Lenders use your credit score for determining risks and setting interest rates. Credit scores, which include credit reports, can be ordered from any of the three major credit bureaus or from MyFICO.com. The average cost is $17. Beware of websites that charge for only credit reports, which you could obtain free.
Lenders currently put more emphasis on payments made on time and differ more on what makes a good score, says NFCC's Gail Cunningham. Traditional interpretation of scores is:
• 700 to 850: low credit risk
• 600 to 699: fair risk
• Less than 600: a bad risk.
Visit bankrate.com or MyFICO.com for details.
Eddie Walker, of Best Used Trucks, says truckers with ratings from 700 and up can snag a loan ranging from 9 percent to 12 percent interest; with ratings of 650 to 550, 12 percent to 15 percent; and with ratings below 550, 16 percent to 30 percent interest, with transfer and handling fees attached.
An applicant with a credit rating below 550 also needs a compelling story with circumstances beyond his control. "We've seen a lot of those work," Walker says.
Contractors with the highest credit ratings have been getting interest rates as low as 9 percent through lending arms of original equipment makers and used truck dealerships, Walker notes. For the first time in years, lenders are listening, when he makes a case for owner-operators with medium credit risk due to no fault of their own, Waker says.
More new truck loans are being made, says Dan Clark, general manager of GE Capital Transportation Finance. "It has definitely gotten better since the crisis of 2008," Clark says. "We're not as high as in 2005 or in 2006, but we're definitely trending in the right direction."
Owner-operators who have a long history with the same carrier have better potential for getting loans, says GE Capital's John Conkin, vice president of sales.
Prompt payment of bills is more important than ever, given an initiative to include rent and other payments on credit reports. Data firms CoreLogic and FICO are adding data on payday loans and child support this year, says Gail Cunningham, a spokeswoman for the National Foundation for Credit Counseling. Utility payments and cell phone bill details also may be added. Credit-reporting service Experian is reporting on-time rental payments and, on the downside, evictions.
Know your credit report
Even if you're not planning a major purchase, stay abreast of your credit record to maintain a good credit history, correct errors and protect against identity theft.
You can get free reports once annually via annualcreditreport.com or by calling (877) 322-8228. Or contact each agency directly:
• Equifax (800) 685-1111,
• Experian (888) 397-3742,
• TransUnion (800) 888-4213,
If you intend to make a large purchase, it's a good idea to order your report from all three major credit-reporting agencies at once, says Gail Cunningham, of the National Foundation for Credit Counseling. Otherwise, you can spread out your ordering — do one every four months — and still get them all for free.
If your report has a negative event that is incomplete or includes circumstances you couldn't prevent, contact that credit bureau to add pertinent information. The older a negative item is, the less hurtful it is. It's dropped from a report after seven years.
"The inclusion of rent and other payments that were once considered non-traditional will provide lenders with a more complete picture of the consumer's credit track record," Cunningham says. Although banks are still reluctant to make loans, the environment has improved for owner-operators going through the financial arms of truck manufacturers. "If debts have been handled responsibly" by the operator, she says, "this additional information will work to the borrower's advantage."
Some say that getting loans from banks has always been difficult for truck loans, and even more so since the recession. But lending institutions that have traditionally made credit available to owner-operators, such as truck makers' financial arms, are starting to make loans easier to get.
Owner-operators can take advantage of regular bill payments, such as with a fuel card account, to improve their credit, Owen says. "You could take your fuel data to a bank and show them. It establishes a pattern of on-time payment that's very impressive."Lenders' access to data from the Compliance, Safety, Accountability Act gives owner-operators more reason to boost credit scores as much as possible, says David Owen, president of the National Association of Small Trucking Companies. Access to CSA data "has already made an impact on the ability of small operators to get loans," he says of small fleet owners. "Banks and lenders go to that data, and if they think they're not safe, they won't give loans."
Owen advises operators to be creative with credit references, using businesses they make monthly or weekly payments to, such as truck dealers. "These guys are old farmers and they pay their bills," he says of more than 3,000 NASTC members, many of whom have rural ties. "Sometimes they wait until their crops come in, but they always pay."
Such was the case with Diamond, who heeded tips to pay on time and other advice from ATBS, the nation's largest owner-operator financial services firm. "I had an apartment lease and needed to make those monthly payments," as well as a weekly truck payment. Diamond gradually added miles to his Kroger grocery routes and later improved his revenue even more with a dedicated haul to Canada.
Running at least 2,500 miles per week is one of the most important steps in getting out of debt and improving credit ratings, ATBS consultant Don Neil says. That starts by communicating your need for more mileage to your dispatcher, he says. "Doing it early in the week is important," Neil says.
Diamond and owner-operator Helen Johnston, of Pittsburgh, Pa., have witnessed the wisdom of experts' advice to control fuel and other costs to stay on top of business expenses.
Johnston, who pulls a chemical tanker for Dana Transport, overcame bankruptcy in January 2011 after her husband, Dave Johnston, became disabled three years ago. Staying safe to maintain her hazmat status is important, but even more of a challenge was regaining financial solvency.
After Johnston's household went from two incomes to one, she still made $381 weekly payments on her 2003 Peterbilt 379, which she bought for $75,000 at 11 percent interest and paid off in 2011. "It was difficult," says Johnston, an independent contractor for eight years. "I was out there on the road. I thought I was making money, and I wasn't."
Johnston focused on expenses and relies on no credit now. She cut food costs in half by putting a microwave in her cab and stocking a refrigerator with food. She used store coupons frequently. She used her own printer-scanner to process paperwork instead of paying for truck stop scanners. She and her family sold a motorcycle, two cars and two recreational vehicles. They even bought a cow to butcher.
"You've got to learn how to save money a little at a time so you have a profit at the end," says Johnston, who plans to keep driving her Pete for years. "It feels good to go out there and get a paycheck every week for the work I've done."
GETTING HELP
Individuals struggling with debt problems sometimes go to through outside parties to get help, such as debt consolidation, personal finance counseling and bankruptcy counseling. With some agencies, certain services are free. Here are some resources:
• American Consumer Credit Counseling, 800-769-3571, consumercredit.com
• Coast To Coast Credit Services, 888-292-2525 ext.310, usbestcreditrepair.com
• CommonWealth Credit Restoration, 888-359-3535, iwantgoodcredit.com
• National Foundation for Credit Counseling, 800-388-2227, nfcc.org