Nav unit with Wi-Fi connectivity
Rand McNally's IntelliRoute TND 720, a 7-in. truck-specific GPS, features Wi-Fi connectivity that allows for real-time weather display, as well as new hardware with a rugged casing, video input and a brighter screen. Drivers can use the Wi-Fi option by using smartphones as Wi-Fi hotspots. Other features include expanded routing options, quick view of exits to help find truck stops, fuel logging to track purchases and use, and increased customization.
RAND MCNALLY, randmcnally.com
Single-wide drive tire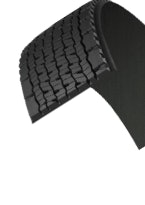 The Multi Energy D drive tire delivers enhanced fuel efficiency and performance, Michelin says.
The Dual Energy Compound Tread has a top layer of tread rubber balanced to deliver fuel efficiency while exhibiting the needed wear properties to resist tread scrub. The bottom layer of tread rubber maintains cool casing temperatures for low-rolling resistance and extended casing life. With the retread's Matrix Siping Technology, full-depth sipes supply traction while the three-dimensional Matrix sipes lock together for stability.
MICHELIN,
Diesel exhaust fluid pump
The STX2A-DEF Sliding Vane Pump is designed for the transfer of AdBlue diesel exhaust fluid to handle its corrosive properties. The pump is made with 316 stainless steel, allowing it to meet the ISO 22241 material and cleanliness standards required for AdBlue-handling applications. The pumps offer flow rates from 60 to 227 lpm (15 to 60 gpm).
BLACKMER, blackmer.com
Reefer units with APX control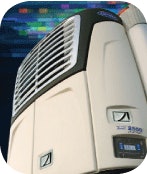 The Carrier Transicold line of X2 trailer refrigeration units now features the 2500 APX and 2100 APX. Both have the APX control system, which combines distributed, modular electronics, service and expandability, an easy-to-use driver interface and USB connectivity for fast data transfers, the company says. The system also offers the IntelliSet control application as a standard feature, which simplifies the cooling process.
CARRIER TRANSICOLD, carriertransicold.com
Compact power distribution module

The HBW18 sealed power distribution module is for use in small battery compartments and handling added equipment on heavy-duty vehicles. The 18-slot device accepts circuit protection components with a 280-style footprint and stands up to road spray. The unit measures 2.4 by 1.5 by 2.9 inches, is sealed to IP67 standards and features locks to provide backup protection from being dislocated. The unit comes with an optional steel mounting bracket.
COLE HERSEE, colehersee.com
In-cab tablet mount

The suction cup tablet mount consists of the company's universal spring-loaded X-Grip III holder, socket system and 3.25-in. suction cup twist-lock base. The base is designed to attach strongly to glass and nonporous plastic surfaces. It's made of high-strength composite, has rubber tips and uses powder-coated marine-grade aluminum.
RAM MOUNT, ram-mount.com
Extendable TV mount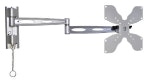 The LCD404L Locking Cantilever TV Wall Mount, designed for TVs mounted in moving vehicles, has a 25-in. arm that swivels and tilts. When not in use, it locks your screen against the wall to protect it while the truck is in motion. It is designed to fit TVs up to 32 inches and up to 25 pounds.
McNaughton, mastermounts.com