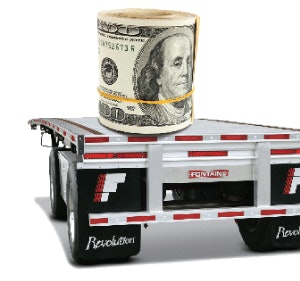 What's happening with pay
Get the latest on compensation for owner-operators and company drivers by attending a free webinar July 26 featuring Gordon Klemp, head of the National Transportation Institute. Klemp will share detailed second-quarter data from more than 350 carriers and answer questions from listeners.
Visit TruckerWebinars.com to register.

TruckerWebinars.com also contains the archived version of the June 20 webinar with trucking radio personality Kevin Rutherford. The Overdrive columnist explained how to best manage fuel costs, taxes and surcharges. The hour-long session is available for free download.

Add this to your toolbox
The Trucker Tools app allows you to find truck stops, scales, rest areas and Walmarts

closest to you. Owner-operators can obtain permits, tags, state and interstate authority, DOT compliance information, bookkeeping services and factoring services. Soon you'll be able to find DOT-certified docs in the National Registry of Medical Examiners. Scan the QR Code to download.
Stay in tune and in touch
Let your voice be heard and get the latest headlines, industry news and links to Overdrive blogs and stories by liking Overdrive on Facebook (Facebook.com/OverdriveTrucking) and following the @OverdriveUpdate Twitter feed (twitter.com/OverdriveUpdate).