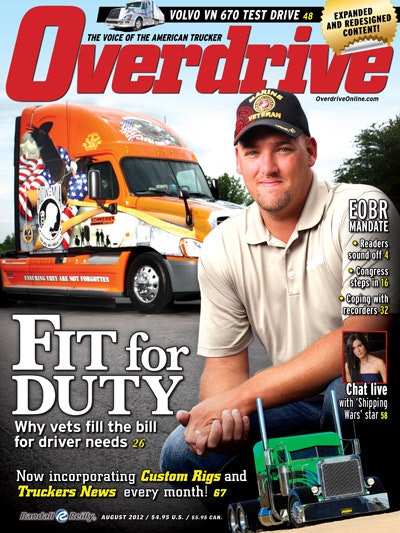 The 51-year-old "Voice of the American Trucker" Overdrive entered a new chapter in its existence this month, joining forces with sister publication Truckers News and quarterly Overdrive spinoff Custom Rigs.
On the Truth About Trucking Live radio show Aug. 16, 7 p.m. EDT, join Senior Editor Todd Dills for a talk with hosts Allen and Donna Smith about these changes and Dills' "Owner-operators' top challenges" feature in the current edition of the magazine.
Dills and Overdrive queried readers toward developing a top challenges list, headed up by fuel prices, EOBRs and hours of service, uncompensated detention time, and freight rates and including many others besides. Discussion of these and other problems will include two of the primary sources in Dills' August reporting, leased owner-operator Jeff Clark and Kansas City-area small fleet owner Thomas Blake, hauling intermodal containers.
Dills has been sharing supplementary reporting on the industry's top challenges this month on his Channel 19 blog as well.
To listen to the program, tune in to the Truth About Trucking Live program on BlogTalkRadio.com Aug. 16 at 7 p.m. EDT.