The National Association of Small Trucking Companies' new entrants seminar at association headquarters in Gallatin, Tenn., last Friday (and conducted every final Friday of the month) offered attendees with their $250 registration fee membership in the association and thus access to NASTC's well-known fuel program. I've been aware of the program, as I'm sure have many of you, for years, but attendance at the seminar netted further details.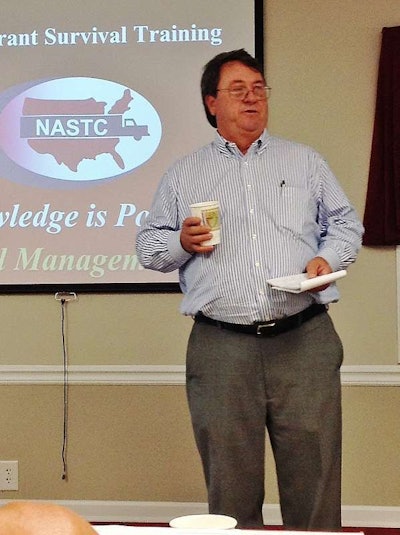 The cost-plus discount program is structured similarly to many fleets' volume discount programs. "You could cut up our fuel program into thirds and it would still be the three largest fuel programs in America," said NASTC President Dave Owen (pictured). "We can deliver double-digit [20-40-cent-per-gallon] discounts" not only to more sizable small fleet but "to a guy with one-four trucks."
If you're an owner-operator leased to a non-NASTC member carrier or at the four-truck-or-under level, Owen added, the only route toward access to the program is via the new entrants seminar, part of an Association strategy toward building solid businesses among its members in the discount-purchasing network. (You can find more about the monthly seminars via this page.)
Daily, NASTC takes Oil Price Information Service regional rack prices (wholesale) and makes those the basis for the next day's member in-network purchases. A small charge — four cents — is added for the fuel retailer in NASTC's Quality Plus Network, a handpicked selection of 840 truck stops around the country. Because the system is based on the previous day's wholesale prices, NASTC's Daily Fuel Hedge is able to notify participants in the program daily via text alert what fuel is going to do the next day. If it's going up a few cents, alerts advise, buy before midnight to save on the increases, vice versa if it's going down.
All in all, a neat tool to have in your fuel-price-fighting arsenal.
You can find more about NASTC's many small-carrier/owner-operator tools via their website.