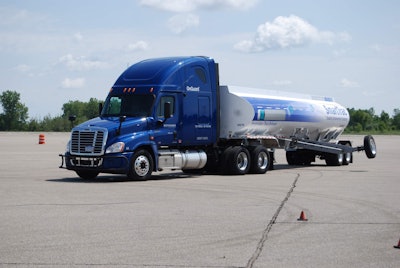 Meritor WABCO introduced this week its next generation OnGuard collision safety system that integrates collision warnings, active braking and automatic collision mitigation braking. The system will be available on every vehicle ordered with OnGuard starting Oct. 1.
The system utilizes radar and vehicle tracking that work in sync to warn drivers and brake automatically when vehicles stop in front of them or when they're approaching another vehicle too quickly. When it determines a collision threat, the OnGaurd system applies 50-percent braking power in an attempt to stop the vehicle. It also has Adaptive Cruise technology to keep the truck at a safe following distance when cruise control is on.
WABCO says the radar and tracking systems are designed to minimize false warnings from small inanimate objects and checks other lanes for evasive maneuvers to avoid rear-end collisions.
The new radar system also auto aligns so that owners no longer have to manually calibrate it.
The company also unveiled its new Lane Departure Warning system, part of a partnership with Takata Corporation and its SafeTrack technology. The system, also available in October, is a forward-looking, vision-based system that detects lanes and a vehicle's position in its lane. If the vehicle starts to move out of its lane without a turn signal, the system audibly and visually alerts drivers.
The system has a Driver Alertness Warning that determines by the truck's drifting, weaving or lane changing that the driver is possibly drowsy and pops up an alert.
Two other items WABCO unveiled were its electronic stability control system, ESCsmart, and its Electronic Control of Air Suspension, designed to improve traction for 6×2 applications.
The ESCsmart stability system is a self-learning system that adapts to changes in the vehicle characteristics without the need to reprogram the electronic control unit. The system works to prevent rollovers and mitigate situations that could cause drivers to lose control of the vehicle.
On Tuesday, Aug. 14, Meritor WABCO received the Smart Solution Spotlight award from the Intelligent Transpiration Society of America for its OnGaurd system. The award honors companies for using innovative technology to create "safer, cleaner more efficient and sustainable transportation systems."