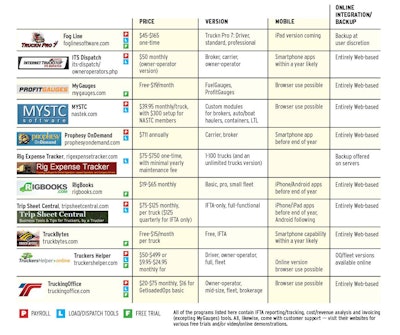 When it comes to business software, many computer-savvy owner-operators have taken an approach similar to that of Jason Haggard. "I took the time to make a custom spreadsheet," he says. General small-business accounting software QuickBooks "is nice, but my design is more tailored to my needs."
With buckets set up for different categories of expenses ("Where does QuickBooks have an expense category for hitting a deer with your truck?" Haggard asks), he can break down income and costs per mile, per trip, or over any length of time. "If a guy can't figure out his bottom line, he doesn't know what he's doing," Haggard says.
Even those unfamiliar with spreadsheets can make use of owner-operator-focused software, now available at lower prices and with more functionality. While some are still computer-based, others are increasingly Web-based, accessible anywhere you can get an Internet connection. The costs are as little as a onetime $45 fee to $9.95 a month for Web-based software. Free online packages with limited functionality are available as well. (For our quick-glance comparison of available programs for both leased and independent/small fleet operators, click through the chart image above.)
Programs primarily for leased owner-operators
The market for owner-operator software has expanded in large part due to people like Haggard, whose struggles with their own single-truck or small fleet business problems motivated them to devise a solution.
Kevin Rutherford's all-online MyGauges, which includes FuelGauges and add-on ProfitGauges software, is targeted primarily to leased owner-operators as a bookkeeping system and performance tracking tool. He developed it to make sure owner-operators "could do the minimum amount of accounting, simply," Rutherford says. "Our system is designed to use it just once and you know it."
By filing receipts in categories and putting the numbers into corresponding fields, Rutherford says a leased driver can do all of his bookkeeping himself in "under an hour" a month with MyGauges. Rutherford and his team originally developed it as a standalone program, then decided it needed to be online in 2007. (Rutherford detailed his simple, effective accounting system for one-truck operators in Overdrive in this story from 2011.)
One advantage to online-only programs is the data safety provided in the event of a local computer crash or loss. Advantages for the software provider include eliminating the redundancy of programming systems for Windows and Macs and sending updates out to subscribers and owners. With an online program, updates are accessible for all users at the same time.
RigBooks, developed by Jason Forrest initially for his Mercer-leased owner-operator father, is another recent addition to the software market. He launched the Web-based software in 2010 for company drivers and leased owner-operators. "The majority doesn't have to worry about IRP and IFTA as much, but ultimately a lot of people were asking for IFTA," he says. "We've taken customer feedback and keep growing to extend our reach."
Having added IFTA to both basic and "pro" versions of the software, he plans "to extend fleet functionality to be more useful," Forrest says. "Today, it doesn't cover the payroll side of things."
Mostly retired owner-operator Ray White developed his Fog Line Software business, which produces the Truckn Pro 7 system, as a personal business tool based on spreadsheets that he slowly began to make available to other operators. Since Truckn Pro went public in 1998, White says, in contrast to many other software packages, it's remained a standalone program housed on your PC. Versions for Macs and the iPad are on the way.
If you prefer keeping your data on your own computer's hard drive, White notes that there are backup options. "The database is split from the program, so they can go on the computer and do the whole backup themselves easily — users can put a copy of their data file on a flash drive. They can also run the whole thing right off a flash drive."
The Rig Expense Tracker software, also a standalone program, offers backup capability on the company's servers and comes with a 30 percent discount for members of the Owner-Operator Independent Drivers Association.
Data in Rig Expense Tracker likewise stays on the user's computer, says developer Rick Stephens. "I have a big problem with the cloud," he says, referring to the term for data-housing on multiple Internet-connected servers. "If the cloud goes away, so does their data. I allow the data to upload a backup for disaster-recovery procedures."
Truckers Helper, also offered with an OOIDA discount, continues to be available in standalone version, says founder and longtime truck operator John Ewing, though its owner-operator ($9.95 monthly) and fleet versions are also available in Web-based versions. "You have to stay on top of things," Ewing says. "You have to know what you're making and what your bottom line is."
Stay tuned for Part 2 in this series for small fleet/independent owner-operator-appropriate programs.