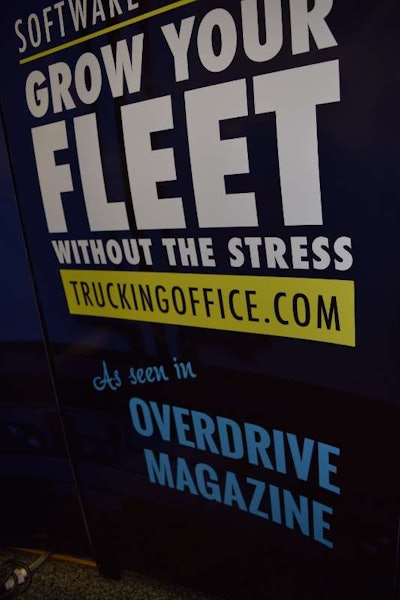 At the Great American Trucking Show in Dallas, owner-operator and small-fleet focused business software provider TruckingOffice announced a newly upgraded version of its online package, TruckingOffice Pro. Designed to meet customer demand for more complex hauling, said Allen Campbell, the company's founding former owner-operator, TruckingOffice Pro offers advanced load planning capabilities so users can track both full truckload (FTL) and less than truckload (LTL) loads.
Thousands of trucks already rely on TruckingOffice's online management software and the new capabilities expand the ability to mix and match hauling according to company needs. Pro "gives you the ability to pan loads out far in advance," said Campbell. A user can "put more than one load in one trip," too, great for auto transporters and hotshotters, among others, who specialize in LTL. TruckingOffice's previous functionality remains into to track IFTA miles and driver settlements.
With the increased functionality of TruckingOffice Pro, users can still expect the same easy-to-use, streamlined technology found in TruckingOffice Basic, based on trucking terminology rather than complicated accounting vernacular.
"Our software has 20 years of real-world trucking experience behind it and was designed to make it easy to run a small trucking company," said Campbell. "The new TruckingOffice Pro allows our customers to easily track and invoice for their complex hauling while ultimately creating efficiencies and maximizing profits."
For those who are familiar with TruckingOffice through its GetLoadedOps partnership with the GetLoaded load matching service, a similar upgraded version of that package, said Campbell, is in the works.
TruckingOffice is showcasing its new software at GATS in booth #11056. Pricing for the new TruckingOffice Pro starts at $30 per month. For a 30-day free trial of TruckingOffice Pro, visit www.truckingoffice.com.
Founded in 2005 by a trucker with real-world experience, TruckingOffice trucking management software is ideal for owner operators and small fleets. Built to help small trucking companies succeed in a competitive market, the easy-to-use and intuitive online application can dispatch loads, create invoices, track expenses, pay drivers and record vehicle maintenance. For more information, please visit www.truckingoffice.com.