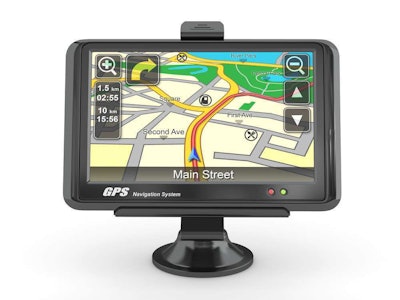 U.S. Sen. Charles Schumer (D-NY) is pushing for establishing national standards for truck Global Positioning System devices, citing research indicating a high percentage of trucks hitting low bridges in his home state because of GPS issues.
The U.S. Department of Transportation should investigate these New York accidents and "issue a set of recommended federal standards to address the problem," he wrote DOT Secretary Ray LaHood. The state's increased use of signage and new alert systems for drivers have been insufficient to overcome the issue, he added in a Sept. 24 press release.
Department officials did not immediately respond to a request for comment.
Schumer referenced NYDOT research that indicated most New York truck bridge strikes result because GPS did not indicate truckers were on a non-truck route.
Final study results released last December note passenger vehicle GPS are not programmed to help truckers avoid parkways and low clearance bridges, but newer GPS systems designed for trucks can be very effective to avoid these situations. Additionally, smart phone apps and over height detector systems work well to warning drivers when they approach a low clearance bridge, researchers stated.
They recommended prohibiting truckers using consumer GPS system and hiking fines for truckers on non-truck routes. Other recommendations included:
The NYDOT and local authorities should review several routes under CSX bridges unrestricted to trucks to consider barring trucks on these routes
Requiring truckers with multiple accidents on bridges on unauthorized routes purchase additional liability insurance
Use electronic remote monitoring to identify trucks on unauthorized routes and issue summons or penalties by mail
Maryland's State Highway Admiration also has noted a recent increase in truck bridge strikes. As a result, officials have updated the over height truck permit application process to include a height clearance route survey certification.
Illinois implemented a new regulation this year requiring the Secretary of State produce a brochure outlining differences between truck and passenger vehicle GPS systems. Additionally, the new law requires local governments became to provide current truck route information to the Illinois Department of Transportation for online posting, here.