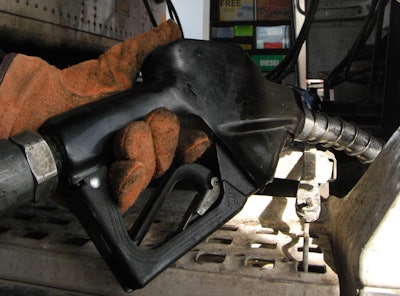 After declining for two consecutive weeks, the U.S. average diesel price rose 1.5 cent to $4.094 a gallon during the week ended Monday, Oct. 8, according to the U.S. Department of Energy's Energy Information Administration. DOE's report was delayed one day because of Columbus Day.
During 11 straight weekly increases from July 9 to Sept. 17, the price of diesel had climbed 48.7 cents; the price had fallen 5.6 cents over the previous two weeks. This week's price is 37.3 cents above the same week last year.
Average retail prices rose in most regions tracked by DOE except for a 1.1-cent drop in the Rocky Mountains, where the price fell to $4.194; and a 0.5-cent drop on the West Coast (not including California), where the price fell to $4.207.
California's average price saw the biggest increase – 3.8 cents to $4.414, the nation's highest by region. The nation's cheapest diesel by region was found on the Gulf Coast, where prices were unchanged at $3.999 – the only region below $4.
Complete diesel price information is available on EIA's Website.