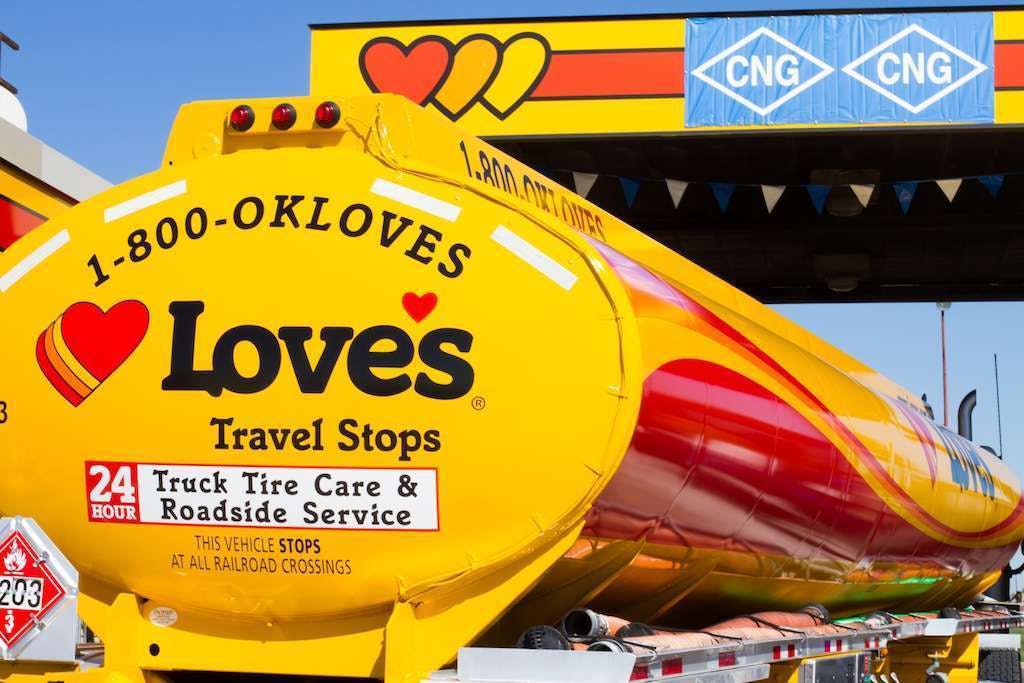 Love's Travel Stops has opened its first compressed natural gas fuel facility designed for rapid fueling of heavy-duty trucks. The fast-fill CNG pumps are located at the Love's Travel Stop on Interstate 40 at the Morgan Road exit west of downtown Oklahoma City.
Love's is also testing a Cummins Westport CNG engine in one of its own fuel delivery trucks, with plans to order more CNG engines for its 300-truck fleet. Current CNG fill rates for a Love's fuel tanker average 12 gallon-equivalents per minute. While the fill time is still slightly more than filling up with diesel fuel, the cost savings are significant, says Frank Love, president of operations for the truck stop chain.
"A gallon-equivalent of CNG currently costs over two dollars less than a gallon of diesel," Love says.
"After extensive research on natural gas alternatives, we see a significant cost benefit in using CNG for our fuel delivery truck fleet, and we see an opportunity for trucking fleets with regional hauling operations to also take advantage of the cost savings with CNG," he said.
Love's is currently in discussion with several trucking fleets and is looking to expand the availability of fast-fill CNG at its travel stop locations across Oklahoma and Texas. The company will continue to monitor demand for CNG among class 8 drivers and trucking fleets as it adds CNG pumps in the future, the company says.