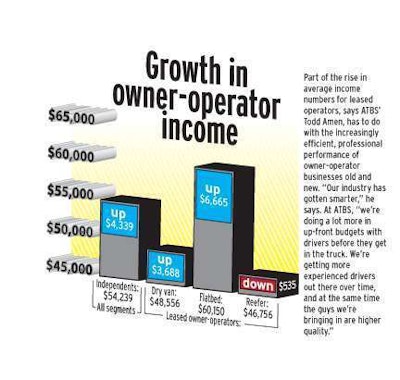 Owner-operator pay has improved a good bit since the recession, though a sluggish economy is producing mixed results for 2012, say experts who track compensation.
Income for owner-operators showed a 7.5 percent year-over-year boost in the 12 months that ended in June 2012, said Todd Amen of owner-operator business services firm ATBS, speaking at the Truckload Carriers Association Independent Contractor Division meeting last month. On average, ATBS owner-operators clients earned $50,896 in that period.
Much of that income boost came in the first half of this year, when owner-operators both independent and leased saw the benefit of the brief fuel price decline between April and July, Amen said. Better yet — particularly for the long-term, he adds — for operators not in a percentage pay environment, close to a majority of per-mile-pay carriers have begun to pass along the rate increases they've been seeing since late 2010 to drivers and contractors.
However, that's likely to level off in this last half of 2012, says Amen. "The fuel increases will hurt these guys in the short term."
Also on the downside, carrier/shipper "leverage on negotiating prices [is] at an equilibrium right now," said the National Transportation Institute's Gordon Klemp in an Overdrive webinar this past summer. "We're not seeing rate increases." However, if the economy rebounds after the election, Klemp suggested carriers can get higher rates, which should readily translate to boosts in driver pay next year.
Many carriers have begun to raise pay and take other steps to improve retention, Klemp says, but "pay will have to continue to improve to keep the good people."
All the carriers Overdrive talked to agreed with that sentiment. Drivers and leased owner-operators with Trimac Transportation, Dart Transit, RWI Transportation, Fikes Truck Line, Marten Transport, America's Service Lines, Old Dominion and D&T Trucking, among others, report relatively recent pay increases.
Supply is on your side
With per-mile pay generally stagnant until recently, there haven't been a huge number of new people coming into the trucking business, Klemp says. And "a tremendous number have retired over the past decade," he adds. Of the year 2000 driver pool, "36 percent will be retired by the end of this year," representing "a huge number to be replaced." From 2007 to 2010, he says, the industry in aggregate "essentially replaced none of them."
Reacting to this dynamic, carriers in a position to do so have sweetened sign-on deals and boosted pay. Klemp reports a $12,000 sign-on bonus as the highest outlier in his carrier pay package data. Other anecdotal reports have shown figures of $15,000 in the recent past.
At Illinois-based Nussbaum Transportation, says CEO Brent Nussbaum, "five years ago our turnover was 60 percent a year. Today it's 30 percent." He attributes that not just to company culture at the 210-truck dry-freight carrier, but to action on one of the biggest problems in the industry: "We've always felt that driver pay should be higher than what it is."
The company increased owner-operator per-mile base pay 3 cents in 2011 "and another penny this year," Nussbaum says.
In addition, after taking a pay cut during the depths of the recession with a move to household goods miles from practical miles, Nussbaum-leased owner-operator Homer Kaiser says pay is back to a practical miles basis. And, Kaiser adds, equipment changes paid for by the carrier have yielded what amounts to a further pay increase with a boost in fuel mileage.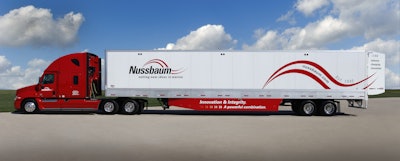 "I'm gaining at least a mile a gallon from what I was running," says the owner-operator, who's been leased there for seven years, with the addition of side skirts and trailer tails (pictured) to company-owned dry vans fleetwide. Today, Kaiser is up to a 7-7.25 mpg average in his 2006 Volvo, powered by a Cummins ISX15. That boost in fuel mileage for an owner-operator running 120,000 miles a year amounts to saving $11,400 a year, with diesel at $4 a gallon.
Nussbaum says "driver pay is up about 9 percent" from early 2011, well above the national average increase for vans.
At once, it can't be said that all is rosy around the trucking world with regard to pay. While analysts continue to note mostly upward trends in owner-operator pay over the last few years, the following OverdriveOnline.com poll's results suggested otherwise, with nearly 80 percent of operators reporting either no increase or negative pay movement within the last year.
Has your carrier increased any aspect of pay within the past year?
Yes, substantially 3%
Yes, minimally 10%
I'm paid percentage, rates are up 4%
No 64%
I'm paid percentage, rates are down or flat 15%
Not sure 4%
Tune in Wednesday for Part 2 in our pay series, with a look at