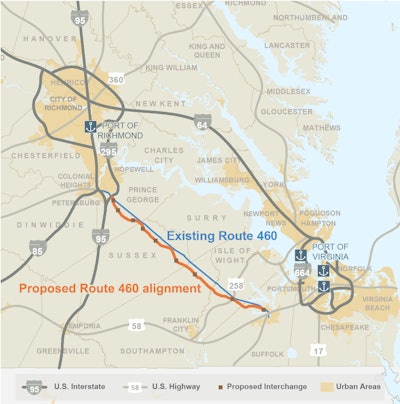 When Virginia opens the new Route 460 in 2018, truckers will pay $11.72 to drive the entire 55-mile extension, while the current route will remain toll free.
Oct. 17, state officials announced they had selected U.S. 460 Mobility Partners to finance, design and build a limited-access highway parallel to the existing Route 460. Tolls are scheduled to escalate at 3.5 percent annually.
The state will own and maintain the new road and retain the power to set and increase tolls. Should actual traffic exceed expectations, the commonwealth can reduce the toll rates or the escalation factor.
The first year, passenger vehicle drivers will pay 7 cents per mile and truckers will pay 21 cents per mile. Tolls will be collected electronically only via E-ZPass and license plate video tolling.
The new four-lane divided highway originates in Prince George County and terminates in the city of Suffolk, with interchanges at routes 156, 625, 602, 40, 620, 616 and 258.
Designed in the 1930s, the existing U.S. Route 460 is a key link between the Port of Virginia, and interstates 95 and 85. It also has become a component of a major East Coast shipping and distribution corridors.
Three entities will finance nearly $1.4 billion in design and building costs. The Virginia's Department of Transportation will contribute most of the money, followed by the Virginia Port Authority.
The non-profit Route 460 Corridor Funding Corporation of Virginia will rank a close third in funding. It will issue a net amount up to $216 million tax-exempt bonds to finance the project and will collect the tolls, and manage the toll system over a 40-year period.