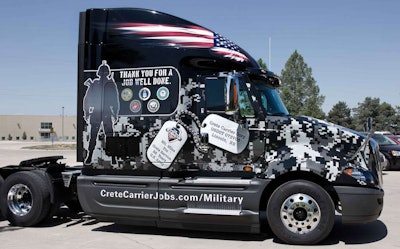 The Lincoln, Neb.-based Crete Carrier Corp. has been named a Top 100 employer of former military members, says G.I. Jobs. Overdrive sister site CCJ has the full report on Crete, the criteria for getting on the list and a short bit on Crete's five-truck Patriot Fleet (see photo, above) — click here to see the article.
Veterans finding jobs in the trucking industry after serving either at home or abroad was the subject of Overdrive's August cover story — Fit for Duty, by Linda Longton — click here to see that story — in which Crete drivers and a fleet manger were interviewed. Pictured here is David Payne, a Crete driver who wanted to employ his nearly 20 years of driving experience for the Army after he retired. He retired from the military after 23 years of service in February and started driving for Crete.
Also on the subject of veterans-turned-drivers and the OD August cover story — this Voices piece from mid-August, in which two drivers sound off on Longton's article.