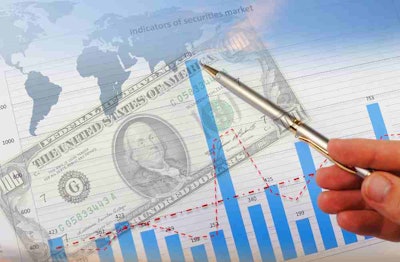 The week's highlights in potential economic indicators include a report on surface trade between the U.S. and Mexico and Canada, preliminary data on truck orders for the month of October, weekly unemployment claims and a shrinking national trade deficit — all of which indicate positives for both the trucking economy and the U.S. economy as a whole.
Preliminary data for Class 8 truck sales in the North American market in October show the highest number of net orders since the start of the year — 23,200 units — according to ACT Research.
Trade using surface transportation between the U.S. and Mexico and Canada grew 2.6 percent to $82.5 billion in September, according to the U.S. Bureau of Labor Statistics, accounting for a year-over-year increase of 5.2 percent. The number is up 52 percent over August 2009 — the end of the recession.
Weekly unemployment insurance claims dropped 8,000 from last week to 355,000, down from 402,532 during the same week in 2011.
The U.S. trade deficit shrunk in September, according to the U.S. Department of Commerce, dropping 5.1 percent to $41.5 billion, a few billion lower than what economists had predicted. That's the smallest the number has been since Dec. 2010, and, according to Bloomberg, an increase in consumer spending in September boosted imports and demand for goods in growing South and Central American markets helped beat expectations, too.