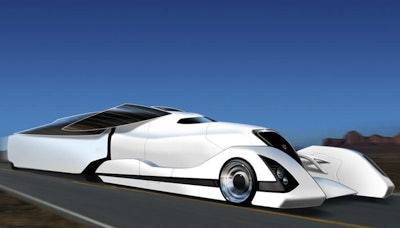 Aerodynamic tractors have been a growing part of the heavy-duty truck market for decades. With much of the tractor aero gains already carved out from years of wind-tunnel testing and refined engineering, attention now has swung to trailers. MinStar, a long-haul dry van fleet running out of Eagan, Minn., began experimenting with aerodynamic tractors when fuel was still less than $1 a gallon. It wasn't until last year that MinStar began working with trailer aerodynamic
California aero trailer mandate kicks in Jan. 1
The New Year will ring in a major requirement for owner-operators who haul in California. Small fleets of 20 or fewer trucks have until Jan. 1 to either outfit pre-2011 53-foot dry van and reefer trailers with SmartWay-certified aerodynamic devices that improve fuel economy between 4 and 5 percent, or register to delay meeting the requirement until 2016. SmartWay is a program of the U.S. Environmental Protection Agency. "The clock is ticking for compliance," says Randy Rhondeau of the California Air Resources Board. "Fleets and owner-operators who travel into California must have aerodynamic devices unless they registered with CARB on a phase-in option" that provides an alternate compliance schedule. "If you're pulled over for noncompliance, the owner of the tractor-trailer can be cited $1,000 per day. The driver of the tractor-trailer is not off the hook, either – that person can be fined $1,000 a day as well." For repeat offenders, fines can increase to $10,000 per day. CARB adopted the regulation in 2008 to reduce greenhouse gas emissions. The goal is to improve fuel efficiency by using aerodynamic features and low rolling-resistance tires. For rigs with box-type trailers 53 feet or longer, 2011 van and reefers trailers already must meet the requirement. SmartWay-certified tires won't be required on pre-2011 box trailers until January 2017.
"We had some classic models in our fleet a few years ago," says Mitch Miller, MinStar president. "But we stay away from them now entirely because of the cost of fuel."
The carrier's primary focus now is on closing the gap between the cab and the trailer with adjustable fifth wheels and cab extenders, while also using tank fairings and trailer skirts.
"Based on our own testing, a full aerodynamic tractor-trailer combination gets ¾ of a mile per gallon better fuel economy than a nonaerodynamic rig," Miller says. "We feel that aerodynamics allow us to operate a fuel-efficient vehicle for $800 a month less than for a nonaerodynamic model."
"When diesel fuel prices drop to less than $3 a gallon, there is not much interest in paying for an aerodynamic improvement that will take six years to pay for itself," says Dave McKenna, director of powertrain sales and marketing at Mack Trucks. "But at approximately $4 per gallon, there are a lot of 'aero-religious' converts."
The other driving force for more aerodynamic tractor-trailers is environmental concern for lower emissions. That's why California and the U.S. Environmental Protection Agency have been pushing aero equipment aggressively.
"Already many millions of dollars have been earmarked by the U.S. Department of Energy to help the cause," says Sean Graham, president of Freight Wing, an aerodynamic trailer component designer and manufacturer involved in DOE's effort. "Our goal is to realize a 15 percent improvement in fuel economy over trailers without fairings."
That's a 6 percent improvement over what is commercially available now through Freight Wing's side skirt and gap fairing. "This would come from a combination of side skirts, gap fairings that streamline turbulence between the tractor and trailer, and fairings at the end of the trailer," Graham says. "We're well on course to make this happen."
Drag increases exponentially with speed. "Even with all available aerodynamic gains, a sharp increase in road speed can easily negate any net fuel economy gains," McKenna says. "Our research shows that an average road speed of 62 to 65 miles per hour with a full array of aerodynamic components at work is the best of both worlds in terms of productivity and fuel economy."
One reason for the attention on trailer aerodynamics is that all components of a vehicle's design interact with each other. Optimizing the tractor, trailer and driver as a complete system of mutually supporting elements is essential, says Rick Mihelic, manager of vehicle performance and engineering analysis for Peterbilt.
"Enhancing synergy between leading-edge areas like the crown, windshield edges, mirrors and bumper with downstream effects on the tractor and trailer will yield optimal performance gains," Mihelic says.
"We're already seeing this in current designs as OEMs and third parties work to provide components that further integrate combination vehicles," says Frank Bio, product manager for Volvo Trucks. In redesigning a truck for optimum aerodynamics, Volvo looks at all exterior components and how they interact together – all the way to the trailer. "The entire truck works as a system, so a change to one component can affect how air flows around another," Bio says.
It's hard to imagine a less aerodynamic structure than a 53-foot long box with no rounded edges. Making matters worse with a trailer's aerodynamics is the gap between it and the tractor, says T.J. Reed, director of product marketing for Freightliner Trucks.
"Wind moving around even the most aerodynamic tractor gets sucked into this gap and creates a tremendous amount of turbulence and drag," Reed says. "Even crosswinds can add to the drag created in this area. That's why you need to reduce as much friction and turbulence as possible." Peterbilt has added scoops on its raised roofs to push air over the trailer "because that transition of air between tractor and trailer is so critical to good aerodynamic performance," he says.
Air also gets sucked in and under the trailer, creating still more drag and turbulence. "You've no doubt seen more and more trailers equipped with side skirts to improve aerodynamics and fuel efficiency," says Graham. Freight Wing has invested heavily in third-party tests that show fuel improvements of up to 7 percent on trailers equipped with side skirts versus trailers without.
"We've found that fleets typically report 4 to 6 percent fuel economy improvements, depending upon their application and driving environment," Graham says. "Most fleets see a return on investment for a skirt-equipped trailer at about 50,000 miles."
The final challenge with trailer aerodynamics is due to the vacuum created by its tall squared-off rear as the trailer moves at high speed. Because nature abhors a vacuum, air flowing on all four sides of the trailer immediately curls inward to fill this void, creating more drag.
Trailer tail devices can minimize that effect. Babur Ozden, chief marketing officer for ATDynamics, says his company's TrailerTail fins create a funnel effect, preventing air from attempting to fill the low-pressure area, thereby decreasing drag.
TrailerTails deliver 6.6 percent fuel savings at 65 mph, according to third-party SAE Type II J1321 testing, Ozden says. Improved trailer aerodynamics also increases trailer stability due to reduced turbulence at the vehicle's rear – and thus reduces tire wear and driver fatigue – and improves safety through reduced spray in wet weather, he says.