Last month, the Federal Motor Carrier Safety Administration expanded its Pre-Employment Screening Program (PSP) to include intrastate motor carriers and different kinds of "Industry Service Providers" involved in driver hiring directly and in support of motor carriers in hiring decisions. Such providers and motor carriers can now directly access driver PSP reports with a PSP account and the driver's consent.
PSP reports contain three years of crash information and five years of inspection violations associated with a driver, which information is directly germane to motor carriers' Compliance, Safety, Accountability Safety Measurement System percentile rankings.
FMCSA defines the new "industry service providers" that can access PSP records in the account holder agreement as:
**Companies who offer direct screening for-hire and then leasing of drivers to service motor carriers in the industry;
**Companies who offer outsourced screening and hiring on behalf of motor carriers in the industry;
**Companies who offer provision of pre-employment screening information to support motor carrier direct hiring of drivers;
**Companies who offer provision of records to commercial drivers who seek integrated pre-employment screening information about themselves.
The PSP program expansion means "important driver safety data is now more easily available to companies that are responsible for hiring the drivers that get behind the wheel of many large trucks and buses," FMCSA said in a press release.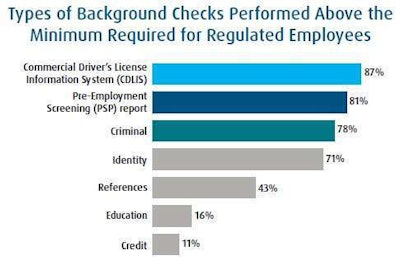 Use of the PSP report as a driver screening tool in hiring and leasing has ballooned in the two years and some months it's been available. Checking driver PSP reports during hiring ranked second, after only a check of the Commercial Drivers License Information System (CDLIS), in a recent survey conducted by HireRight, compilers of driver DAC Reports. "I talked with some of our customers," said Kent Ferguson, HireRight director of transportation solutions, "who are ordering our products in phases [when background-screening a driver] — they'll order an [Motor Vehicle Record], check CDLIS and our employment history file up front, then they'll move to PSP." At once, he added, "many customers have moved the PSP up earlier in the phase because of the ability to identify past employers that may not be on the other reports. And some employers are phasing out drivers based on a bad PSP report, with too many inspections or crashes."
Ferguson described its current PSP service to its motor carrier customers as still being fairly limited in terms of its automation — "the [motor carrier] can order [the PSP report], and we provide a hyperlink. We can't provide a report. The customer then selects a hyperlink and then goes into their own account with NIC technology. They put in their password to view the report.
"We're working on trying to overcome those concerns."
Concurrent with the expansion of the program, FMCSA also launched an iPhone application for PSP. Account holders can now securely access a PSP dashboard on an iPhone or iPad, and easily review a PSP record in a mobile-friendly format. The app is available for free download by searching "DOT PSP" in the Apple iTunes store or via this link.
iPhone users can tap the screenshot image from the app to download.
No concrete plans for an Android app are extant, said PSP program contractor NIC Technologies General Manager Elizabeth Pemmerl. "The iPhone app mimics the user experience that any PSP account holder would have on the Web application. Users can request records, view records and etc. We are interested to expand the mobile offering to include additional platforms — we are going to monitor use and make sure the mobile option is popular with account holders, then consider additional application types."