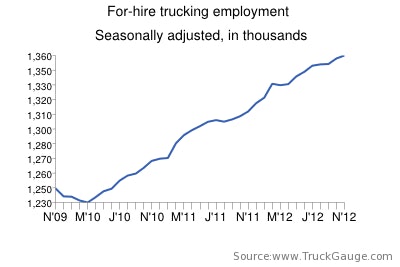 Trucking companies added 2,500 payroll jobs in November, announced the Bureau of Labor Statistics on Friday, in a month where the overall economy 146,000 nonfarm jobs. The unemployment rate dropped to 7.7 percent in November — the lowest point in four years and down from 7.9 percent in October. The number of payroll jobs at for-hire trucking companies is up 124,200 jobs since its bottoming-out point in March 2010 — a 10.1 percent increase. That number, however, is still 95,000 jobs — 6.5 percent — under January 2007's high point.
In other economic news last week, ACT Research published two reports on truck and trailer orders.
Net trailer orders for the month of October shot up 30 percent from September, with dry van orders leading the way. ACT said that first the first time since April, the number of backlogged orders increased and that the end-of-year push should sustain the trailer industry through the second quarter of 2013.
However, orders for Class 8 trucks in November declined 14 percent from October, says prelim data from FTR Associates. Still, November had the second highest number of orders since March, said FTR, but outlook for 2013 is somewhat bearish, as predicted, says FTR.