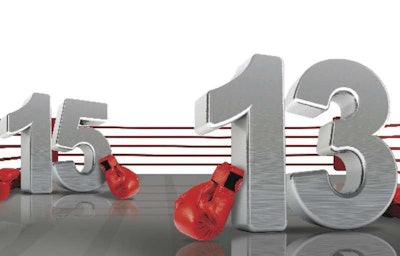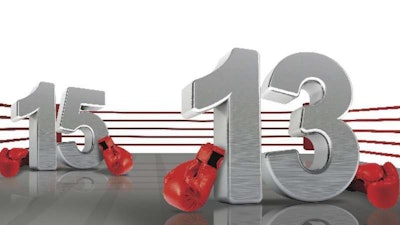 Engine makers understand that bigger engines still fit many applications, which is why all continue to offer – and improve upon – larger-liter designs. There are applications that absolutely depend on large-displacement engines, and there are many buyers who simply prefer the luxury of having extra power if they need it.
Part 1 of this series talks about the rise of 13-liter engines and why they now rule the market. Click here to read it. Part 3 will be published Monday and will cover how to choose between the two options.
"For a long time, the residual value on the back end of a 15-liter engine remained very strong," Baney says. "You simply could get more money for them on the used truck market, but we're starting to see that change as well because 13-liter engines have carved out a niche for themselves in the horsepower 'sweet spot.' "
However, 15-liter engines can push up into the mid-500 horsepower range. "That's an attractive proposition for vocational applications," Baney says. "Each displacement is in a 'sweet spot' of its own."
While 12- to 13-liter engines are stretched to their mechanical and thermal limits, 15-liter engines have increased capacity and margin relative to cylinder pressure capability and mechanical and thermal limits, Rumsey says. "Additionally, lower power density may enable a simpler engine platform or may provide the flexibility to optimize the engine and engine subsystems to achieve the best blend of desired performance, fuel economy and emissions characteristics."
Larger-displacement engines also can offer improved drivability. Despite the recent market shift, 15-liter engines remain an attractive option for long-haul due to performance and fuel economy, stronger clutch engagement and better braking horsepower.
That's an argument that sits well with owner-operator Bo Hutson, who is leased to tanker hauler Suttles Truck Leasing and runs hazmat tankers coast-to-coast behind his ISX15-powered International ProStar+. Hutson, who has been contemplating buying a new rig, hasn't decided on a make or model, but he knows one thing for sure: His next engine will be a 15-liter.
"To me, a 13-liter is really a disposable engine," Hutson says. "You're only going to get 600,000 or maybe 750,000 miles out of those engines, which is fine for fleets. But an owner-operator needs to be certain of higher mileage from their engines, and 15-liter engines routinely log a million or a million-and-a-half miles before they quit. Plus, hauling tankers, I rely on the extra power a 15-liter puts out to get my work done. So it's really a no-brainer for me."
The driver alone can have a 30 percent impact on fuel economy, Rumsey says. "It's easy to see how important better drivability and better performance are with larger-displacement engines, especially in the hands of an expert driver who can make the engines deliver exceptional fuel economy," she says.
Each engine also should be optimized for the specific intended duty cycle. While larger-displacement engines can allow for greater gross power output, they cost more because of their added mass. "Machining costs and design expenses can be greater producing engines in the 500-horsepower-and-up category," McKenna says.
"While we've made some strong inroads with customers and convinced them that their needs can be met by a 13-liter engine, there's still a legitimate need and demand for 15-liter power – especially with higher-horsepower users," Gilligan says. That's one reason Navistar is relaunching the Cummins ISX15 in its ProStar+, with plans to offer the engine soon in both its 9900 and PayStar tractors.