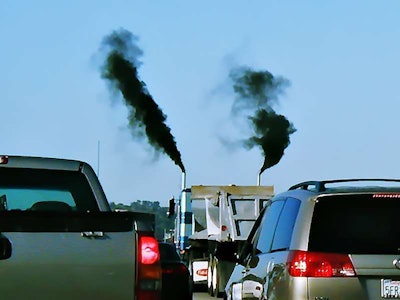 The California Construction Trucking Association announced Tuesday, Jan. 22, it filed a Notice of Appeal to the U.S. Court of Appeals for the Ninth Circuit after a December 2012 ruling offered what CCTA says was a non-decision in its nearly two-year-long case with California's Air Resources Board and its truck regulations.
CARB in recent years has rolled out little by little stricter emissions regs that require truck owners to either install soot filters or upgrade to a newer model, such as the ones that began Jan. 1 of this year.
According to a news release from CCTA about its appeal of the December ruling, "The CARB diesel engine regulation will ultimately force the replacement of most diesel powered commercial motor vehicles that do not meet 2010 EPA emissions standards in order to operate in the state of California. Despite claims used to justify this regulation by regulators and environmental groups that public grant funding is readily available to assist truckers in complying – this is not true. Small-business truckers are bearing the brunt of the multi-billion dollar expense to unnecessarily replace trucks originally built and certified to EPA emissions standards."
The case began in March 2011, when CCTA filed a suite against CARB claiming California it violated the Federal Aviation Administration Authorization Act, "which prohibits states from enacting any law, rule, or regulation affecting the price, routes or services of motor carriers," says CCTA's announcement.
CCTA says it plans to continue to challenge both CARB and the EPA, alleging that the EPA's "hurried" approval of California's State Implementation Plan conflicts with other federal law, including the FAAAA, and the commerce clause of the U.S. Constitution.
Lee Brown, the executive director of CCTA, posted a letter to the group's website dubbed "Why We Should Continue to Fight." Click here to read it. In it, Brown questions the science used by CARB and calls reports from CARB "mostly propaganda perpetuating a huge deception" and says that truck owners are left to upgrade equipment that complies with federal emissions standards, among much else.