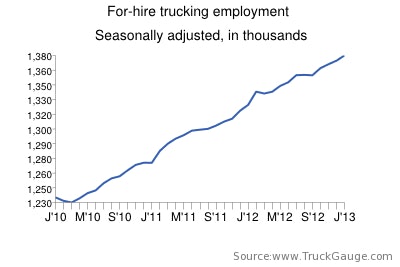 The number of jobs in the trucking industry fell swiftly during and after the most recent recession in 2008 and 2009, bottoming out in March 2010. Since, however, trucking employment has gained big, and that trend continued in January: The Bureau of Labor Statistics reported today that for-hire trucking companies added 5,000 payroll jobs in the month, pushing the total number of trucking payroll employment to 1.375 million jobs.
That number is up 1/3 of a percent from December and 3.6 percent — 47,400 jobs — from January 2012.
The economy as a whole added 157,000 jobs in January, but the unemployment rate rose a tenth of a percent to 7.9 percent.
For-hire trucking has added 141,000 jobs since March 2010 — an 11.4 percent increase — but is still 78,300 jobs (6.3 percent) below its peak in January of 2007. The numbers only reflect payroll employment of the for-hire trucking industry and do not take into account trucking jobs in other industries.