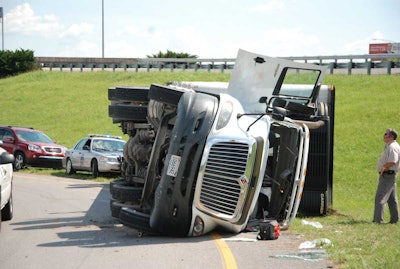 In pulling together several significant studies from the last decade, the American Trucking Associations has released a report concluding that many more times than not, drivers of cars are at fault in fatal car-truck crashes, and the association has presented this to the Federal Motor Carrier Safety Administration as more proof that the agency needs to do something about crash fault and accountability relative to its Compliance, Safety, Accountability program.
As it stands, any wreck a truck is involved in — whether the truck driver's fault or not — adds points to a carrier's and driver's score.
ATA pulled together results from studies at the University of Michigan, FMCSA itself, the National Highway Safety Administration and others.
All showed that more than 80 percent of the time, crashes are the fault of car drivers.
Click here to see ATA's report and more on each of the individual studies.
Also, click here to see coverage from a CSA Subcommittee meeting held last week in Washington, where Overdrive Senior Editor Todd Dills wrote that stakeholders involved with CSA — motor carriers, law enforcement officials and others — ranked crash accountability/preventability as their No. 1 concern with CSA.
Following that coverage, Overdrive Editor Max Heine wrote a blog detailing some ridiculous examples of motor carriers being dinged in their CSA score for a crash that clearly was not their fault at all. Click here to see it.