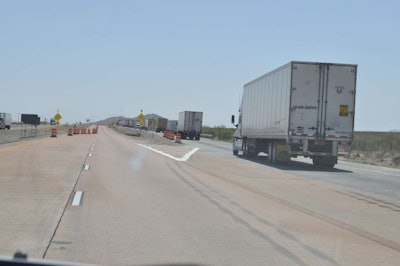 The Federal Motor Carrier Safety Administration has granted a tenth Mexican carrier operating authority for its cross-border trucking pilot program.
On Feb. 19, the agency announced it would issue provisional operating authority to Grupo Behr after it concluded the carrier had made sufficient changes to qualify for the program.
In 2011, FMCSA published the company's Pre-Authorization Safety Audit, required of applicants to demonstrate that they can operate safely beyond the commercial border zone. Agency officials then put the company's application on hold and began a focused investigation after public concern was expressed over the carrier's safety record.
FMCSA's cross-border program is also still in the midst of a lawsuit with the Owner-Operator Independent Driver Association and the Teamsters. A District of Columbia appeals court heard oral arguments Dec. 6, but has not issued an opinion yet. The plaintiffs — OOIDA and Teamsters — have asserted FMCSA requires American truckers to meet stricter regulations than program's participants.
In separate litigation in the same court, OOIDA is arguing the agency's National Registry of Medical Examiners does not permit Mexican drivers to operate in the United States without a current medical certificate issued by a registry examiner.
On Nov. 26, Mexico filed a friend-of-the-court brief stating the association had no basis to conclude Mexican medical examination standards and procedures are insufficient to assure safe operation.
According to the agency's most recent publicly available data, nine carriers have applications for authority pending as of Jan. 27. Additionally, five carriers have withdrawn from the program and the agency dismissed another eight applicants.
The FMCSA has placed one truck out of service, belonging to GCC Transporte. As the program's lead participant, it has eight drivers, made 994 crossings and undergone 296 inspections. Agency representatives are investigating another participant, Transportes Monteblanco, for a possible hours-of-service violation.
The FMCSA's aggregate data indicates that of the 1,411 border crossings, none were made over the Arizona border and Ysleta, Texas, leads with 655 crossings.
Participants traveled 43,379 miles in non-border states, with Florida leading with 10,664 miles, followed by Georgia at 10,391 miles.