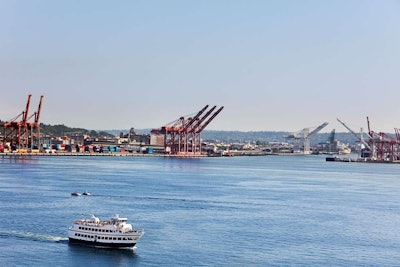 Washington House members are considering bills to requiring Port of Seattle to bar owner-operators and altering the state's definition of independent contractors.
On Feb. 21, the House labor executive committee was to review HB 1719, which stipulates Seattle's port could use only employee drivers for transporting containerized cargo other than agricultural products. It also mandates that these employee drivers be covered under state public employee collective bargaining laws.
During Feb. 19 testimony, the committee heard the legislation could be affected by the outcome of the American Trucking Associations' lawsuit against the Port of Los Angeles. The Supreme Court will hear the ATA's case against the port's trucking concession requirements April 16.
The court will consider issues including whether banning a carrier's port access is a partial suspension of its federally granted operating authority and thereby outside state authority.
An amendment was introduced to remove requiring loading and unloading be done only by employees, but expanding the driver employee rule to Port of Tacoma.
The Washington Trucking Association testified truckers make a choice to become owner-operators rather than company drivers. They can increase earnings by hauling longer distances than drayage and the significant driver shortage also means truckers do not have limited employment options.
The bill would bankrupt too many trucking companies serving the port, the WTA added.
Bill supporters say the legislation is necessary for owner-operators to upgrade equipment to cleaner standards and to provide a better wage and working conditions.
The labor executive committee already has cleared separate legislation that includes a new test to determine status as an independent contractor or employee. The House finance committee was to review HB 1440 Feb. 18, which would abandon the state's use of several multipart tests in determining employee classification.
WTA and others against HB 1440 have said it would create an unlevel playing field by increasing underground work activity. It would convert too many contractors into employees and current law should be better enforced.
Federal preemption legal issues exist with this bill as well, opponents said.
Conversely, bill supporters say misclassification harms legitimate businesses, workers and taxpayers because it results in money not being paid into the state system.
HB 1440 has 27 sponsors while HB 1719 has 23 sponsors.