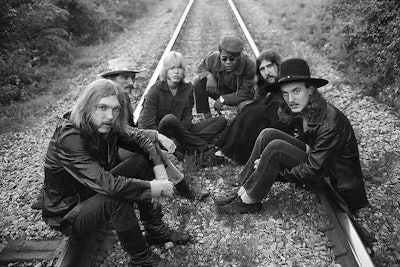 I was mad at Gregg Allman for a while. I didn't listen to his music and avoided the Allman Brothers as well. I'm sure they all suffered horribly, so I forgave him last time we were in Georgia and cranked up some good ol' hometown jams rolling past exits the boys themselves once used to post up at Macon bars and entertain the masses.
I broke a commandment (Jezebella 2:17) and harbored ill will toward Gregg for many years after paying $38 to watch him stumble around and forget the words to his own songs at the Macon Coliseum. To add insult to injury, I happened to be staying at the Macon Hilton, where Mr. Allman had also decided to pass out for the night. He and his female companion made a spectacle of themselves in the very elevator I was in, and by spectacle I mean she had on the most ridiculous top hat I had ever seen. The ugly, stupid hat and the fact that she was holding him up like a sack of potatoes pissed me off so bad I vowed right then and there to be officially mad about it. I also made up my mind to snatch that stupid hat off her head and stomp on it, but her thrashing about trying to keep his dead weight from dragging them both to the ground caused the hat to fall off anyway, and I didn't even bother to help and pick it or Gregg Allman up.
That's how mad I was.
I got off the elevator and left them both wallowing around with the hat and was happy as hell about it.
Anyway, this post isn't about drunk Gregg Allman and ugly hats, it's about good music — he and the boys in the band made some. There's nothing like actually rolling down Highway 41 and listening to "Ramblin' Man'" at the same time.
I've written about how important music is to us while we're traveling. It not only fills the silence, it sometimes masks the snide remarks and grumbles. You'd be amazed at how many bad words you can call someone during the drum solo of "In the Air Tonight" if it's turned up loud enough.
We finally got fancy and installed XM Radio. I'm completely enchanted with the 70s channel, and I have to hurry through most of the talk radio because I become wrapped up in other people's lives and get all emotional.
"Oh my gosh, Ted's wife needs to be slapped three times."
"What?"
"The guy on the radio — gah! Aren't you listening?"
"No I'm not. I zoned out when I heard 'conscious effort to share emotional feelings' back around the 213."
"The 213? You know exactly where we were when you zoned out?"
"Yes I do. That's my job, to know exactly where we are at all times."
"Well anyway, Ted's wife won't listen and gets all defensive when he wants to talk about his erectile dysfunction."
"Unh hunh. And we're at the 187."
"Does that mean you're zoning out and getting your parameters all in order?"
"Yes it does."
"Can we listen to some Phil Collins?"
"So you can call me an asshole during the drum solo?"
"And we're at the 182."