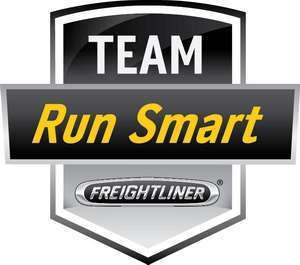 Freightliner combined two driver-related websites to form a site that has grown to be an effective community for drivers and emerging small fleets, said Matt Amen of ATBS, which manages the site. He spoke Tuesday during the annual meeting of the Truckload Carriers Association in Las Vegas.
Following its launch last August, teamrunsmart.com now gets 4,000 visitors per day, Amen said. Most of its content falls under four themes: truck, fuel, business and health. The former sites were Slice of Life, based on blogs from owner-operator leaders driving a Freightliner, and The Edge.
Research showed that drivers have a need for reliable information on products and services, sort of a "'Myth Busters' for what you hear in the truck stop or on the CB," Amen said. The new site tries to meet that need by hosting "coaches," experts from Freightliner owner Daimler and other sources, and "pros," two leased and three independent owner-operators.
Teamrunsmart.com also has grown through its integration with Facebook, Twitter and a weekly newsletter that collects most popular blog posts and most commented-upon items.
Amen said plans for the site include:
More specifically personalizing content for users, such as by type of haul.
Video blogs from the Pro drivers already writing on the site.
A new education and learning system.
Podcast versions of site content for drivers who would rather listen while they drive.
Marketing incentives, such as coupons or special sales for members.