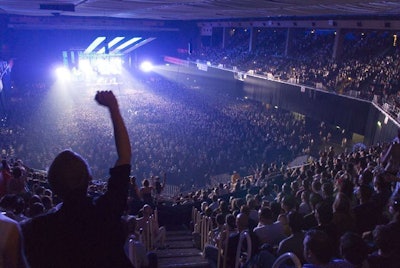 Our 15-year-old has pretty good taste in music. Barring the Dubstep.
"What the hell is that noise?"
"It's Dubstep."
"It makes me feel like I have to poop. Isn't that the brown noise?"
"That's gross, Mom. And it's better than your boyfriend Led Zeppelin."
"Oh my Lord, I can't breathe. Turn it off. It interferes with my autonomous nervous system. And Led Zeppelin is a band, not a person. So now I'm going to sit in the garage with the car running because you didn't know that."
"It's a good thing we don't have a garage. I thought Led Zeppelin was the guy with wings on your t-shirt."
"Stop it. You're grounded."
Like I said, barring the weirdo dubstep, he's got good taste in music that's been heavily influenced by George and I. He's lucky I'm queen of 60s and 70s rock 'n' roll. He grew up listening to Cream, Three Dog Night, Elton John, the Stones and Jefferson Starship, to name a few. I'd put him in his little Johnny Jump and crank the music while I cleaned house and he'd bounce to the beats — he was a happy little rock 'n' roll baby.
When he got older, George introduced him to punk and hair bands. I'm not a huge fan of either, so they listened during guy time bumping around in an old Isuzu Amigo with a giant stereo blaring Iggy Pop, Whitesnake, Velvet Underground and Def Leppard.
When he turned 13, he pledged his undying loyalty to Nirvana and became a Kurt Cobain addict. It was slightly painful for us, but I remembered doing the same thing for Jimi Hendrix when I was 14, so we muddled through and accepted his dependency upon Kurt.
George took him to his first real concert last year. They saw the Foo Fighters in Columbus, which is about an hour from our house. It was a school night and we made him get up and go the next day — got to pay dues if you want to sing the blues and you know it don't come easy. He didn't care, we could have told him he was going to have to plow the front 40 with a mule to see that concert, and he would have agreed.
All three of us are currently in love with the Black Keys, and have vowed to see them as a family this summer. It'll be fun to watch our boy get seized by the music. I vaguely remember feeling euphoric when I saw .38 Special for the first time at the Omni in Atlanta. Of course, that may have been directly related to the pint of cherry vodka I had in my back pocket, but it was memorable, nonetheless. I think.