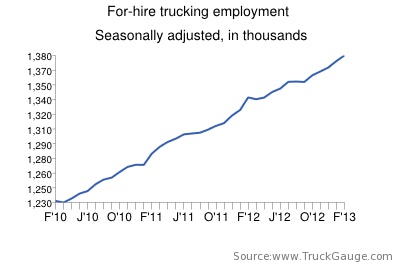 In economic barometers for the trucking industry released in the past week, trucking employment continued its years-long gains and Class 8 orders improved both month over month and year over year.
The for-hire trucking industry added another 5,600 jobs in February, said numbers last Friday from the Bureau of Labor Statistics. The economy as whole in February added 236,000 jobs, which dropped national unemployment to its lowest mark since Dec. 2008 — 7.7 percent.
The 5,600 trucking jobs comes on the heels of January's 6,500 increase. Since October, for-hire trucking has added 21,200 jobs.
Payroll employment in the industry has been steadily climbing since March 2010 and totalled 1.375 million jobs in February — a 42,000-job increase from February 2012. That number, however, is still 70,500 jobs below January 2007's peak — a 4.9 percent difference.
The data from the Bureau of Labor Statistics reflects employment in for-hire trucking, but excludes trucking jobs in other industries. Moreover, the numbers do not reflect the number of employees paid in a pay period in the month, meaning that high turnover could cause the number of jobs to be slightly higher than they actually are.
FTR Associates released last week data that showed Class 8 orders in February rose 4 percent from January of this year and 4 percent from February of last year. Class 8 orders have been above 20,000 a month since October. FTR says the "positive development" in Class 8 sales stems from a "modestly robust freight environment." Click here to see Overdrive sister site CCJ's story on FTR's report.
This week, ACT Research unveiled similar numbers showing that Class 8 units in February were one of the top months in the previous year, and that because orders outpaced expectations, the number of backlogged orders will more than likely rise. Click here to see CCJ's report on ACT's data.