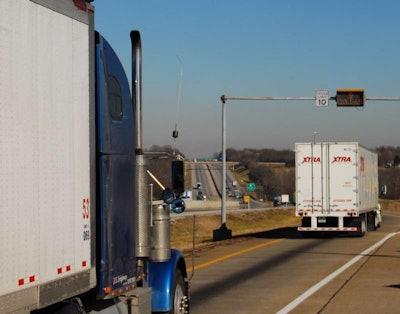 The Federal Motor Carrier Safety Administration sent out a reminder this year for all carriers to update their MCS-150 form to reflect current annual total miles (or vehicle miles traveled) as well as total power units.
Both measurements are crucial in the computation of rankings in Compliance Safety Accountability's Unsafe Driving and Crash Indicator BASICs (Behavioral Analysis and Safety Improvement Categories). FMCSA keeps both categories well under the possible-intervention microscope because it has been able to demonstrate a close crash-risk correlation to the categories' rankings.
If your fleet is in a growth spurt or you're getting more miles, it's particularly crucial to keep those numbers updated, perhaps as frequently as monthly if change is fast. Under-reporting your on-highway exposure (annual VMT) could cause the system to overestimate your company's safety risk by comparing you to carriers that run fewer miles.
Updating the MCS-150 may be less crucial for independents without enough inspections with violations to register a ranking in the Unsafe Driving BASIC. But for larger fleets – or any fleet with a crash on its record – it's a good idea to keep a close eye on it. At Prime Inc., says Safety Director Don Lacy, "in 2012 we gained more than 130 trucks" in total, which he updated on the company's MCS-150 filing "just after the first of the year."
The yearly update is a common practice among fleets of varying sizes, but if operational details are changing fast – consider the case of an independent who's added a codriver and now is running nearly twice as many miles as before – month-to-month updates could help prevent an Unsafe Driving or Crash Indicator alert. It is possible to do it monthly, Lacy says. "The miles can be on a rolling year," representative of the last 12 months of operational data rather than the last full calendar year.
Small fleet owner Thomas Blake of Kansas City, Mo., updates his information once a year attendant to his state vehicle registration. "I use actual miles run" for VMT, he says, "pulling straight off my IFTA reports."
If you don't update the data at least every two years and your data is now from 2010 or older, you are digging yourself a CSA hole if your business is expanding. In such a case, FMCSA will not use the VMT figure and will allow the "level of exposure [to] default to average power units over the previous 18 months," the agency says, which ultimately could be detrimental to your scores. At the least, your scores will be inaccurate.
Blake's company profile shows nine trucks, five drivers and a VMT number of 457,457 miles a year. Four of his trucks are registered with his state, but idle for reasons of freight volume and lack of drivers, highlighting a limitation of the scoring system. If Blake hadn't included his mileage figure, the CSA system would be comparing him directly to other 9-truck carriers with no consideration that he functions as a five-truck fleet.
"When there is no VMT available or it is outside the bounds of reasonableness, then the SMS only uses the carrier's number of trucks" as the normalizing factor, FMCSA representatives note.
Potentials for gaming the system by over-reporting power units, over-reporting mileage or failing to update mileage at all no doubt will be one of the areas of concern that the U.S. Department of Transportation's inspector general addresses in DOT's ongoing audit of data-quality issues within the program, with results due later this year.