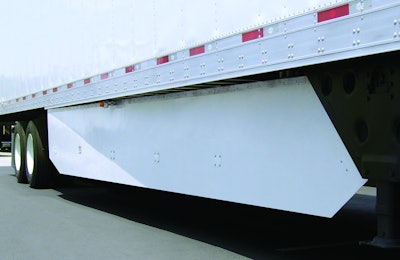 Utility Trailer introduced its 120A-4 advanced aerodynamic side skirt design at the Mid-America Trucking Show in Louisville, Ky. The skirt is U.S. EPA SmartWay-verified to achieve greater than 5 percent fuel savings and can be used in combination with low rolling resistance tires on Utility trailers to achieve CARB (California Air Resources Board) compliance for California operations.
Utility Director of Marketing Larry Roland described the evolutionary process that led the company to the design as one of "a series of tests," Roland said, "that ultimately led to failure" on other manufacturers' skirts conducted in-house, after numerous customer requests for installation in the early days of fleet and owner-operator skirt utilization. "The products out there were tested well for aerodynamics and fuel savings," Roland added, "but we pride ourselves" on strength and durability. Along the way, "we believe we built a better mousetrap."
Unlike some other designs, with the 120A-4 both the skirt and high-tensile steel bracing system are designed to flex in on-highway situations — rolling over a high snow bank, navigating a cumbersome rail crossing — to preserve the integrity of both skirt and trailer.
"Similar to our previous USS-120A design," said Craig Bennett, Senior Vice President Sales and Marketing at Utility, "this new generation maintains a unique patented design to provide long term durability."
The side skirt is also manufactured with a UV-protected bi-directional fiberglass-reinforced-plastic (FRP) construction. To further reduce impact damage the forward edge of the skirt is securely bolted with a "spring" attachment at the support leg assembly.
Utility offers a 5-year warranty on the USS-120A-4 — it's now available as a factory or dealer installation option for new Utility trailers. Retrofitting for existing trailers is available through Utility's Aftermarket Department.
To see the new USS-120A-4 as well as Utility's well-known van and refrigerated trailer designs, visit their booth #34795 in the South Wing at MATS or visit their website.