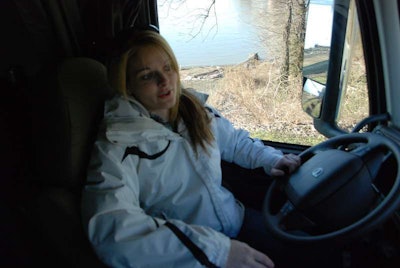 Overdrive Executive Editor Jack Roberts had the chance this week at the Mid-America Trucking Show to ride along with Ice Road Truckers star and "Sexiest Trucker Alive" Lisa Kelly, where the two talked modern trucking, the show, Kelly's on-road pet-peeves, her animals and what her role has been in boosting women in the industry.
In the exclusive 10-minute interview, Roberts sat behind Kelly on the sleeper bunk while she took a Volvo VN 670 for a test drive down I-65 and a few surface streets on the Indiana side of Kentuckiana.
Kelly is at the show promoting Volvo's new online driver community Worldtrucker.
The full video will be available next Wednesday. In the meantime, here's a brief preview, featuring Kelly talking about why she got into trucking:
[youtube 71wULl0Wy6Q nolink]