The first lawsuit stemming from Pilot Flying J's alleged rebate fraud scheme made public last week has been filed, as Atlantic Coast Carriers out of Hazlehurst, Ga., filed a class-action lawsuit this weekend against the company.
ACC's lawsuit says it is being brought on behalf of "All persons or entities who have sustained economic losses as a result of Defendants' wrongful withholding of rebate funds," saying that the truck stop chain "regularly understated" how much it owed to the carrier and other companies, relative to the original agreements between the two parties.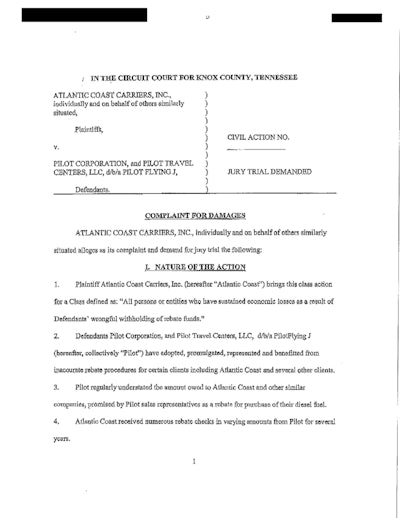 "Pilot executives, directors, principals, sales agents and administrative staff conspired to manually reduce the amount of rebate payments due to Atlantic Coast and numerous other customers," the lawsuit alleges, "in order to increase Pilot profits and increase sales commissions of its sales agents."
Atlantic says that Pilot would agree to offer them and other carriers a discounted price for purchasing certain amounts of diesel fuel then charge more than the agreed-upon price. Pilot would then conceal that from "victimized customers."
Atlantic is suing for full payment of rebate funds owed, recovery of expenses and losses caused by Pilot's breach of contract, punitive damages for "damages sustained as a result" and attorney's fees.
Click here to see the lawsuit filed in a Knox County (Tennessee) circuit court or click the image to the right.