Every great once in a while, when the planets align and Taurus is in the third moon, we end up staying somewhere extra-cool for more time than it takes to load or unload. It's during these days I realize there's no other job in the world you can wake up in Chattanooga, Tennessee and haul baby diapers all day to get to West Palm Beach and be on the beach with a metal detector in your hand by the evening and get paid for it. These are the times you really appreciate being on the road, especially when you're enjoying an ocean sunset and a tropical breeze while people at home are freezing their ears off and looking at brown, frozen corn stalks.
We ended up with an extra day in Ft. Pierce, FL and decided to rent a car so we could go to the beach. We learned the motto for Enterprise Rent-a-Car, "We'll pick you up!" is not entirely true, as they would not pick us up, but we found some nice guys at Hertz who were happy to come get us. They hooked us up with a nice little car, directions to the beach and restaurant recommendations. Shout out to Andy and the guys at Hertz in Fort Pierce, they made it a nice experience.
Of course, we had to stop at Walmart on the way to the beach, it's a prerequisite to stop at Walmart before any outing. We will stop at Walmart on the way to Armageddon, to pick up supplies necessary for slaying the four horsemen. I'm going to hand them all computers loaded with Windows 8, and they'll scream their way to hell trying to figure out how to close a tab, because there are no little red 'x's' anywhere and it's a freaking nightmare of biblical proportions.
We went to Pepper Beach, and I think it's probably one of the nicest public beaches I've ever been to. The bathrooms and showers were clean and well appointed, there was a really nice playground, and the beach had lifeguards. The sand was white and clean, and the water was surprisingly blue-green, even though we were on the Atlantic side.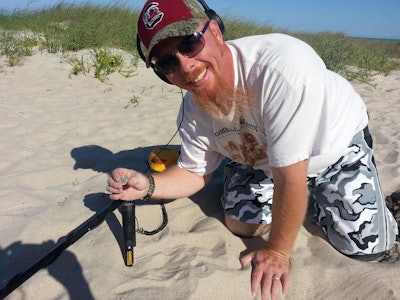 George got to use his new metal detector, and although we were on what's known as the 'treasure coast', he only found twenty-seven cents and a Volkswagen key. I laid on the beach and watched him collect friends, it's amazing how people are drawn to him. By the end of the day, we had a little group of contacts from Germany, Cuba and Illinois. It was neat to know we'd all split off in different directions and take the experience we had together on Pepper Beach with us in our memories. And even though we didn't get rich finding a treasure, we did enrich our lives by taking the time to enjoy it a little.