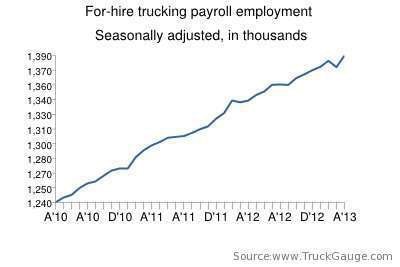 The for-hire trucking industry added 11,700 jobs in April, according to preliminary data released this week by the U.S. Bureau of Labor Statistics. This is the largest month to month increase since February 2012, when the industry added 12,700 jobs.
The report comes on the heels of March's 6,300 job cuts in trucking. However, employment in April found somewhat of a footing, as national unemployment dropped to 7.5 percent, riding a gain of 165,000 jobs in April and a gain of 138,000 jobs in March.
That unemployment rate is the lowest since December 2008.
The for-hire trucking industry employed about 1.368 million workers in April, a 3.5 percent jump — 45,300 jobs — from the same month in 2012. Trucking employment has been increasing steadily since March 2010's bottom and is 151,600 jobs above that number. However, the 1.368 million jobs is still 67,800 jobs below January 2007's peak.
For more on trucking employment, see Overdrive sister site CCJ's report.