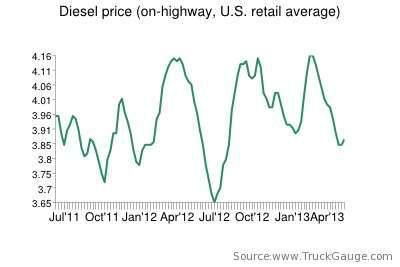 This week marked the 1,000th week that the Department of Energy had reported a weekly national average diesel price, and in it, the price of on-highway diesel rose 2.1 cents, bringing a 10-week period of consecutive price drops to an end.
However, this week's price is still 13.8 cents below the same week in 2012.
Overdrive sister site CCJ has long list of highlights from the 1,000 weeks that the DOE has been reporting fuel prices, including trends from the 2008-2009 recession, the lower volatility of the 1990s and when diesel crossed the $2 a gallon mark for the first time (September 2004). Since September 2004, it's been above $2 every week except a stretch of 10 weeks in December 2004-February 2005. 
It crossed the $3 mark for the first time just 13 months later in October 2005 in the wake of Hurricanes Katrina and Rita.
For more highlights and regional information from this week's prices, see CCJ's report.