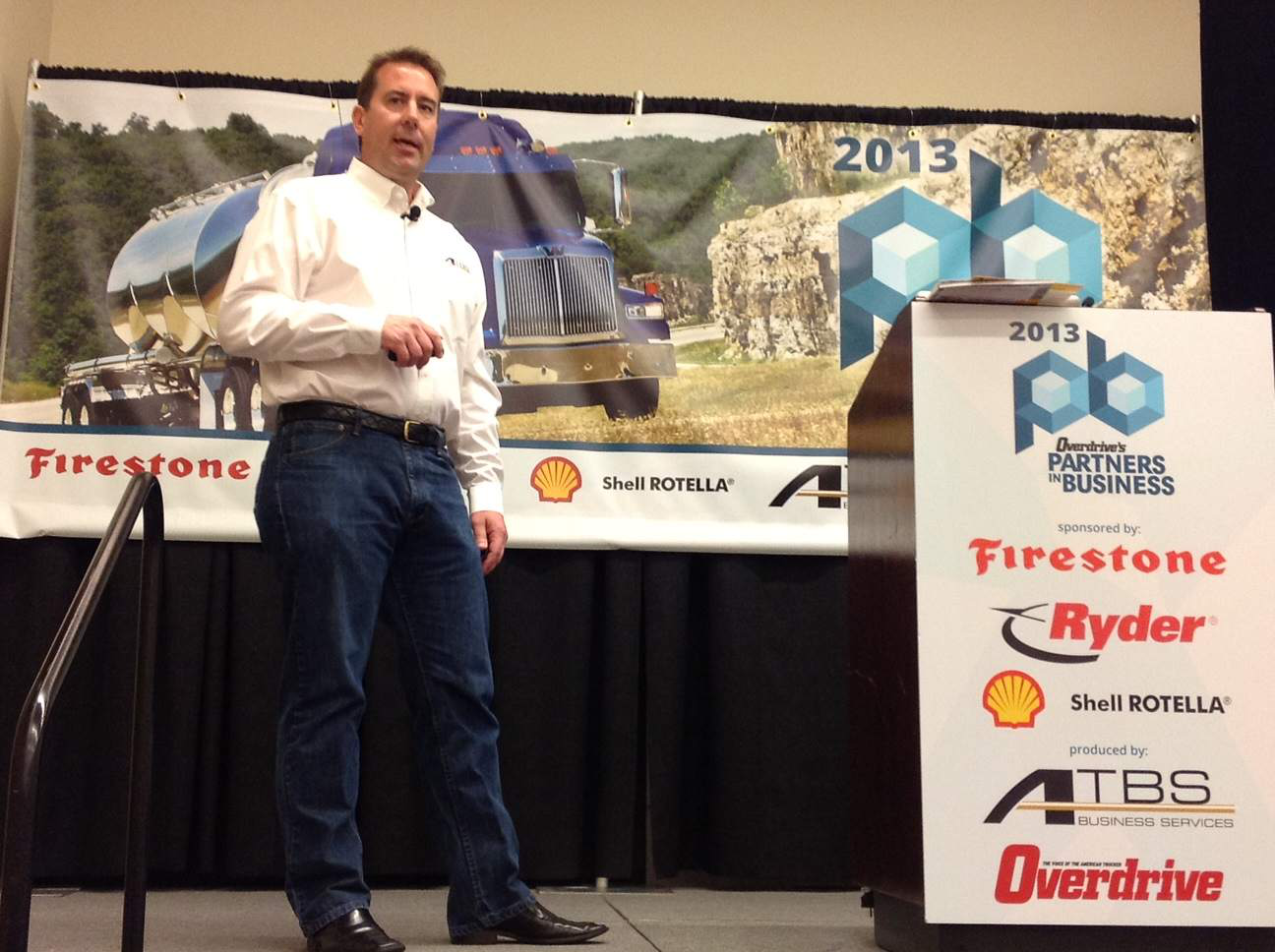 Institutional investors are looking for places to put their money, which is good news for owner-operators who've been hamstrung by tight credit since the recession, said Matt Amen, vice president of ATBS, the nation's largest owner-operator financial services provider.
He spoke to truckers at the Partners in Business seminar Friday at the Great West Truck Show in Las Vegas. The Overdrive-ATBS program is sponsored by Firestone, Ryder and Shell Rotella.
"It's been incredibly tough to finance trucks," Amen said. But now financing is loosening, or as his Wall Street contact put it, "Ducks are quacking."
The economy as a whole has picked up, and likewise for owner-operators. Most ATBS clients profited an average $3,000 from fuel surcharges last year by averaging more miles per gallon that the surcharge was based on, typically 6 mpg.
During 2012, ATBS clients saw net income rise 8.6 percent to almost $52,000, Amen said. Clients drove 2,500 fewer miles on average than in 2011, but higher rates made up the difference. The segment with the biggest gain was independents, whose average net income rose $5,813 to $55,994.
One reason for the lower miles is that a major trend of recent years is a shortening in average length of haul, Amen said, and it will continue. "We're going to see more regionalization of freight, and truck drivers are going to be staying closer to home."
Amen said he knows of one fleet that got rid of trucks with sleepers because it was needing less over-the-road work. "If a driver's out overnight, they put him in a hotel room."
ATBS clients in dry van, reefer and flatbed all ran slightly fewer miles in 2012 compared to 2011, except for independents, who were down 8 percent, to 99,235 miles.
Owner-operators looking to increase net income should understand that miles are a commodity available in the same way to all owner-operators. "Where you make money in this business is managing your costs," he said. "The single biggest cost is fuel."
Henry Albert, a former Overdrive Trucker of the Year, has a goal of 10 miles per gallon on extended stretches driving a Freightliner Cascadia with ordinary specs. He has already done 10 mpg or 11 mpg on shorter hauls. "The single biggest thing Henry's doing is slowing down," Amen said.
He noted that most of the things that affect fuel economy are within the driver's control:
30 percent, driver factors (speed, braking, etc.)
20 percent, aerodynamics
5 percent, maintenance
15 percent, weather
15 percent, route and application
15 percent, gearing
At 65 mph, aero drag consumes 40 percent of fuel. Mechanic loss accounts for 25 percent, and rolling resistance, 35 percent. For that third due to rolling resistance, 42 percent is from trailer tires.
"Every trailer you hook onto, check the air pressure of those tires," he said. Also, be diligent to get alignment checked on a regular basis. Even being slightly out of alignment eats up extra fuel and reduces tire life.
In addition to cutting fuel costs, Amen stressed time management. Use smartphone apps and other resources to plan around congestion, road construction and slow docks.
Other trends Amen noted:
Insurance costs are notably higher for owner-operators in every segment.
Smartphone use and Internet access roughly doubled in a year.
Social media participation is spreading rapidly.