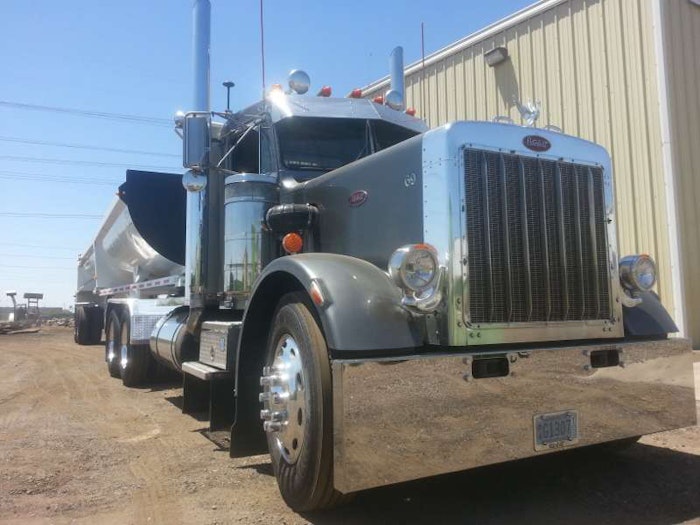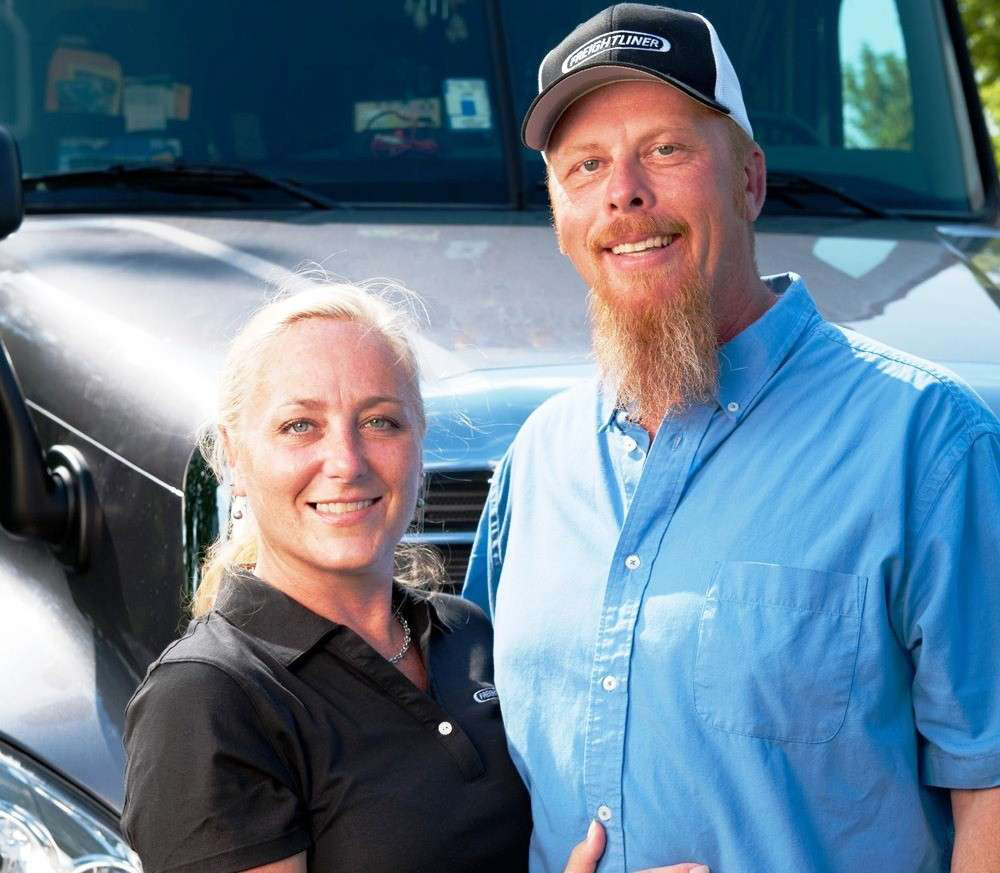 One of the most prevalent complaints in the trucking industry has to do with working for a company that doesn't consider the driver the most important part of the equation. Time and again, there are stories about low pay, terrible scheduling and a general disregard for the professional operating the machinery. Companies that put more emphasis on moving freight than protecting the driver, morale non-existent. It's unfortunate, but it sometimes seems to be the norm anymore.
However, occasionally you find a trucking company that gets it just right. Jim Vant, of Crow Wing Transport, figured out the importance of the driver early on and has made a very successful business doing it right.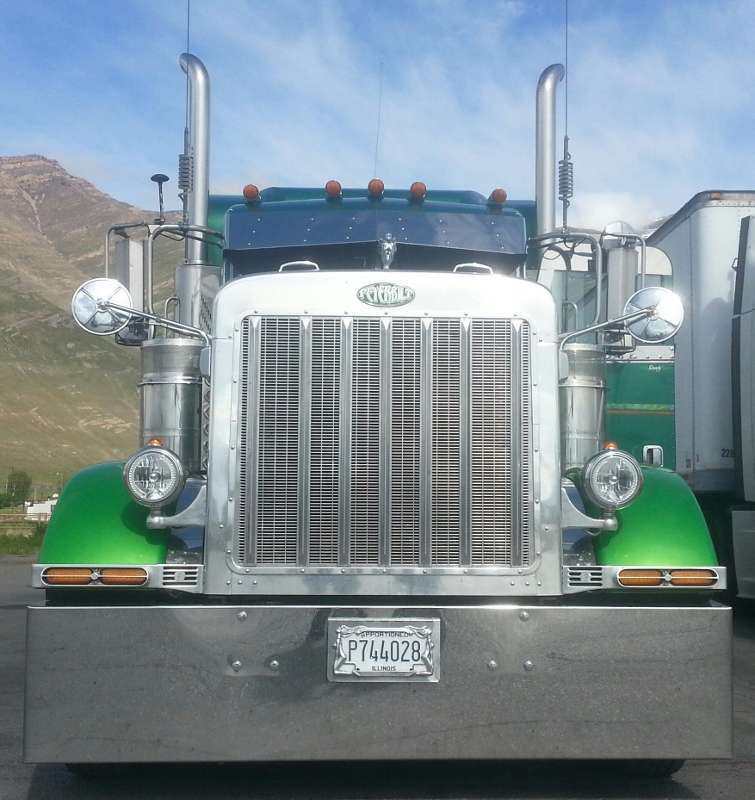 I met Vant through one of his drivers, and I met the driver because of the truck. He pulled into Love's in St. George, Utah, and every head in the parking lot turned to look. When a huge, green, sparkly Pete pulls in with a lowboy, it's hard not to notice.
This truck was spectacular — a 2006 Pete 379, custom-painted and chromed out to the max. When the driver opened the door, it was a glittery paradise, so shiny it was hard to look at in the sunlight. George asked if he could take pictures, and Randy Carlsgaard, the driver, was nice enough to let him. He started telling us about his truck.
"Well, you're probably not going to believe this, but it's a company truck. I've got almost $6,000 of my own money in the interior, but I'm OK with it. I've got that much faith in my company."
OK. This guy was either nuts or stupid, I thought. Either way, I had to hear more.
"Jim takes really good care of his drivers," Carlsgaard told me of Vant. "He pays our insurance and puts money in an account to cover our deductibles. We're out here making money, and are happy to do it because he treats us well. I think your story should be about that, more than the truck. People need to know there's light at the end of the tunnel, there are companies who treat their drivers like they should. There's no sense in these guys out here starving to death in their trucks. They need to know it's not all bad."
He was absolutely right. It was refreshing to hear something good about the industry, someone who was proud of their profession and willing to promote a positive company image. We got Mr. Vant's information and caught a load to Phoenix so we could meet him in person.
"I don't buy trucks and hire drivers for them, I find drivers and buy trucks for them." –Crow Wing Transport owner Jim Vant on the strategy behind his success
I spoke with Vant several times on the phone before meeting him and got the feeling I'd known him forever. He's one of those people who make you feel immediately comfortable, and he's funny, which is always a plus in my book.
Crow Wing Transport found a niche at both ends of the country, built a successful business and fulfilled a need in both places. Vant's company has two yards, one in Chandler, Ariz., and one in Fridley, Minn. Vant is an independent Landstar agent specializing in heavy-equipment loads out of the Minnesota yard and scrap metal hauling on the Chandler end. He stores and hauls a lot of Caterpillar equipment on the Minnesota yard, and sorts, stores, renders and hauls scrap metal out of the Chandler yard.
"Solving problems is the most fun part of the job for me. I enjoy working things out," says the third-generation trucker. Van't grandfather fell into the trucking business when the old Ford Model A he was driving broke down in Minneapolis and a guy needing coal hauled offered to loan him the money to fix it, if he'd agree to haul enough to pay off the loan. Though he was on his way to Washington to be a logger, he never left Minneapolis. He started a local hauling company there, which expanded to interstate hauling in the second generation. Vant worked for his dad until 1988, when he got his own authority and started out with three trucks. He's done everything from local to long-haul, and understands the mind-set of a professional driver.
"Trucking is the best job in the world and the worst job in the world," he says. "You get to see things no one else gets to see, but you have to be away to do it."
We met for breakfast in Chandler — he came to pick us up in an old Ford Explorer. He apologized for the back passenger window being held up with a pair of vice grips, and again I felt right at home. (My own car is held together with duct tape and zip ties — hey, when your husband is on the road 350 days of the year, zip ties and duct tape become a way of life, don't judge.)
Vant spoke as highly of his employees as they spoke of him, and he knows them all well because he works in the yard with them, splitting his time between Chandler and Fridley. "I don't want to be one of those guys who shows up once a year at the Christmas party," he says. "I want my people to know I'll work right down there with 'em. I enjoy working — I get to bash things up in the metal yard, and drive cool heavy equipment in the Cat yard."
The conversation eventually got around to just how in the heck you go about getting a job with Crow Wing, which is the first question on anyone's mind who's reading this. I offered that someone probably had to die or retire, and Jim Vant laughed. "Oh, I've had guys leave before, but most of 'em tend to hang around for a while. I don't buy trucks and hire drivers for them, I find drivers and buy trucks for them. I've never had a truck make me a dime — it's the person sitting in the seat."
Thanks for doing it right, Jim.