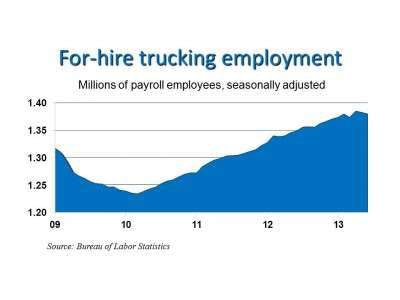 For the second straight month, employment in the for-hire trucking industry sank, as 3,500 jobs were shed in June, according to estimates from the U.S. Bureau of Labor Statistics.
Moreover, revisions to May's report show that 2,600 jobs were actually lost in that month, as opposed to the 700 initially reported.
The U.S. economy as a whole, however, gained jobs, as the BLS reports that 195,000 jobs were added in the month. April and May figures were upwardly revised, too, to reflect about the same amount of gains in those months. The unemployment rate, however, stayed at 7.6 percent.
The for-hire trucking industry had a total of 1,379,700 jobs in June — a roughly 30,300 job increase over June 2012.
The industry has 145,700 jobs — an 11.8 percent increase — from March 2010's bottom. However, the industry remains about 73,700 jobs below January 2007's peak.