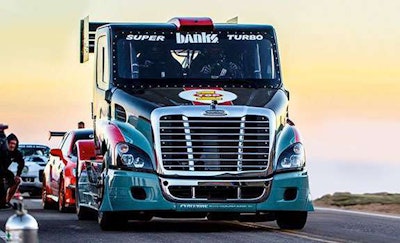 It's one thing to see the truck sitting idle outside the Mid-America Trucking Show, as attendees did this past March, but witnessing the tricked-out Freightliner Cascadia that Mike Ryan just more than a week ago raced in the Pike's Peak Hill Climb in Colorado Springs is another thing entirely, reader Don Christner wrote with submission of the above photo.
"Late in the day this Freightliner truck came past," Christner wrote of his experience at the hill climb. "What a violent machine this thing was! Talking with the Detroit engine tuner earlier, I was told that the 60 series produced 3,000 horsepower and an estimated 4-5,000 pounds of torque. It had a 110-mm turbo, then pumped into a huge blower. He was proud of the fact that the driver was having trouble putting it clear to the floor during the practice runs. Calling him a weenie! Yeah well, when that thing came past I could feel a little shiver of fear just standing there!"
For more about the super-turbo engineering put into the rig, check out this story from March. Ryan wouldn't beat the record on the 12.42-mile, 156-turn Pikes Peak Hill Climb course June 30, given rain squalls and other slippery conditions that had put a damper on some of the racing there. (The course overall rises from a start at 9,400 feet to an altitude of 14,110 feet, gaining almost a mile in altitude.)
"Pikes Peak is the most dangerous race I've ever encountered and that's on a calm clear day", said Gale Banks in a Banks Racing-provided press release. "But this was a day that pegged my danger gauge. Mother Nature was not happy with us, and after a few relatively good hours with records being set, she sent hail, snow and rain…lots of rain to ward us off!
"But Mike Ryan is one who must delight in twisting the tail of the Devil. As destroyed cars were coming off the mountain and rain squalls drenched the starting line, Mike suited up and sat in the racer, determined to climb that mountain.
"I opened the door and told him that I knew a record was not possible and not to risk his life trying, just get it to the top. I knew the mountain had already defeated some pretty experienced guys. He just looked down at me and said, 'thank you for that, Gale.' The rain had degenerated to intermittent showers and sprinkles. Mike fired the engine, got the flag and was gone.
"I reflected on last year when Paul Dallenbach left the line using all of the 1,400-hp my turbos provided, only to go off at 140 mph into the trees less than a mile later. I was standing with his father when the sound of the crash reached us, I can't describe that low and I never want to relive that day, even though it had a happy ending, with Paul setting a new record in his class this year, before the storm arrived.
"As I watched Mike's segment times pop up, I realized that he was faster than at least half of the BMWs, Mustangs and Porsches that had run earlier. Then, as he approached the radio broadcast crew covering the race, the scream of the supercharger and roar of the exhaust coming out of the speakers was so extreme that the announcers were yelling to be heard as he ripped up the straight in front of them."
Even in slippery conditions, Ryan finished just 10 seconds off of his 2012 time.
You can find an interview that aired June 27 with Gale Banks, Mike Ryan and Mike McHorse (with Freightliner) on the Extreme Truckers podcast, available for download, here.