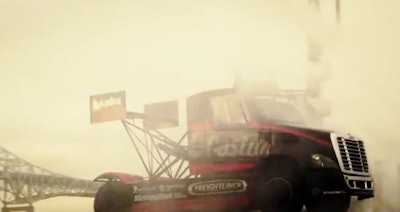 It's not quite as high of a jump as the last semi launch I shared, ultimately, but in the new vid that came across the transom this morning from Gale Banks of Banks Power, Mike Ryan lands it squarely. (Regular readers may well remember this vid with Godfrey Trucking's Scott Godfrey trying to set a Guinness record for longest Class 8 jump.) The Ryan vid is an elaborate production, well worth a look — plenty of moments to make you wonder, well, how on earth did they do that?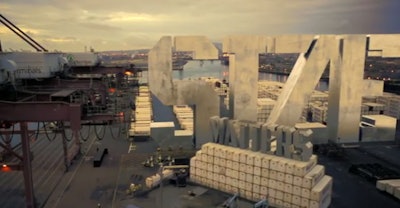 As Banks notes, the video was shot after renting the Matson shipping lines terminal at the port of Long Beach. In addition to more bad weather, which plagued Ryan's run up the Pike's Peak hill climb last year, "between homeland security and the insurance company, we almost didn't get to do the jump," Banks says. "Wherever we go with the Freightliner, it's an unusual, almost surreal experience. The whole thing is unnatural from its very foundation. You take a five-ton big rig, it's got a Detroit Diesel engine that we turbocharged and supercharged, added our Straight-Shot methanol injection, and then you do things with it that most people wouldn't do even in a regular car." Find more on the rig in this story from March of 2013.
It's fun to watch — best moment might well be when a passenger kid in a car up on two wheels that squeezes between a container and Ryan, Ryan taking a picture of the driver as it passes, says, "Cool. Did you see that truck?" when they stop.
As Banks has it, "I think anyone who's into trucks, drifting, jumping and insane stunts will dig it. As far as what's next for the truck, we're doing some tweaks to get ready for the next Pikes Peak hill climb on June 29th, and who knows, if this video takes off we'll have to figure out how to top it for Size Matters 3. Whatever we do, I guarantee it will be something you've never seen before."
Check out "Size Matters 2" below:
[youtube HARjiJEA8eo nolink]
And if you were one of those who wondered how they did what they did, here's a behind-the-scenes vid:
[youtube cyxjA98fKfk nolink]