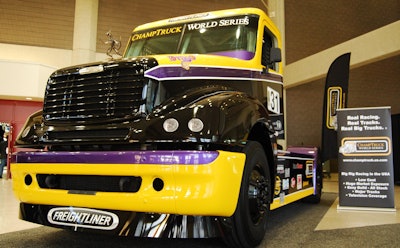 [youtube St6wnvPoPFY nolink]
My colleague Jack Roberts shot the vid above at a European Class 8 racing circuit event in Italy. If you missed his two videologs from the competition, you can stroll through the track action via this link, and this link.
While he was there, Roberts ran into Fabien Calvet, who happens be the European partner of stuntman/Pike's Peak hill-climber Mike Ryan and John Condren of the ChumpCar auto-racing series. In 2015, as both Calvet and Ryan, as well as Condren, have said, the U.S. will be getting its own Class 8 circuit series. Calvet noted as many as 8 races confirmed for 2015 in this video brief Roberts shot.
And in the podcast below, from my conversations with Condren and Ryan at the Mid-America Trucking Show, the stateside partners in the ChampTruck World Series also share plans to build a Class 8 racing culture here and how interested racers can get involved.
Podcast: Play in new window | Download
You can follow the series progress, with newly posted 2015 rules being the latest addition to information at the series website, via ChampTruck.us.com. Below find a gallery of images of both Ryan's Pike's Peak Hill Climb stunt Cascadia as well as the ChampTruck prototype Condren and Ryan brought to show at the Mid-America Trucking Show. Ryan's annual run up Pike's Peak is getting close, too, June 29 in Colorado Springs for any serious race fans in the audience. Find more about it via this link.