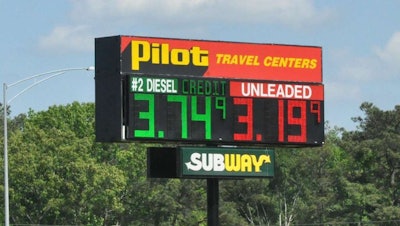 Three more class-action lawsuits have been filed against Pilot Flying J due to the ongoing federal investigation into the company that it knowingly and fraudulently withheld fuel rebates from fleet customers over a seven-year period.
With these, the company has been sued at least 15 times since federal agents raided the company April 15. A federal affidavit was released April 18 alleging that the company defrauded carriers out of tens of millions in owed fuel rebates.
The first of the most recent lawsuits, filed June 21 by Industrial & Crane Services based in Pascagoula, Miss., is suing the truck stop chain and fuel provider for breach of contract, conversion, unjust enrichment and violation of Tennessee's Consumer Protection Act. The company is seeking damages, restitution and disgorgement. Like the other lawsuits filed against the company, this one seeks a jury trial. Click here to see the document filed in a Mississippi court last month.
The second suit, filed July 2, names not only Pilot Corporation as a defendant, but also Pilot's senior leadership, including CEO Jimmy Haslam. The suit is being brought by Arka Logistics in Markham, Ill., and uses the federal affidavit as evidence of its claims, which include — unlike most of the other lawsuits against the company — violations of the Racketeer Influenced Corrupt Organizations Act and mail fraud.
Arka is suing both the company and management for counts of violations of RICO, conspiring to violate RICO, breach of contract, tortious interference with a contract, negligent misrepresentation and unjust enrichment. It's seeking actual, consequential and incidental damages, along with punitive damages, treble damages, injunctive relief, and attorneys' fees and court costs. It also seeks a jury trial. Click here to see the lawsuit document filed in court in Illinois last week.
The last of the three most recent was filed July 3 by R&R Transportation in Minnesota and also names Pilot executives as defendants. It relies on the affidavit, too, for evidence. R&R is seeking damages, treble damages, restitution, equitable relief, and attorneys' fees and court costs. It's suing on counts of violations of RICO, breach of contract, fraud, fraudulent concealment, violations of deceptive trade practices laws and consumer protection statutes, unjust enrichment and conversion. It seeks a jury trial, too. Click here to see the documents filed in the Minnesota court last week.