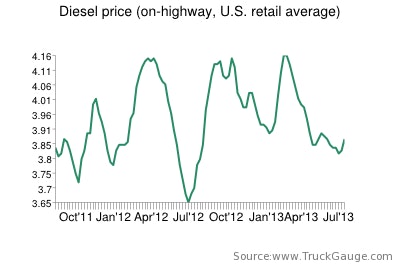 After six straight weeks of decline — though small decline — the national average retail price of on-highway diesel has now risen two weeks in a row, according to the Department of Energy's Energy Information Administration.
The national average price rose 3.9 cents in the week ended July 15, following a 1.1-cent increase the week prior. Before that 1.1-cent rise, diesel had dropped each week since May 20. However, the price had only dropped 7.3 cents total in that six-week span.
This national average price reported this week — $3.867 — is 17.2 cents higher than the average in the same week in 2012.
Moreover, average prices rose in all regions for the second straight week. A 5.3-cent increase in the West Coast excluding California region led the regional increases. California has the nation's highest diesel average, $4.065 a gallon, while the country's cheapest diesel is in the Gulf Coast Region — $3.798.