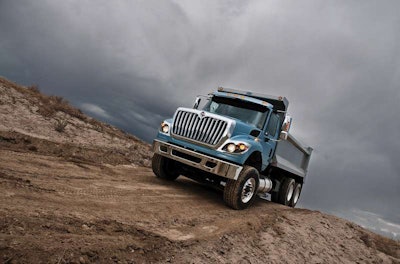 Navistar International announced July 16 it is bringing back its International WorkStar vocational line and will use its 13-liter engine equipped with selective catalytic reduction emissions tech to power it.
The WorkStar's reintroduction marks the fourth truck the engine and truck manufacturer has switched to SCR since December, and the company's phasing in of SCR is expected to be completed in August.
"With the launch of the WorkStar with our 13-liter SCR engine, we continue to make great progress in our engine transition strategy and customers are benefitting from our expanded product line-up," Bill Kozek, president of Navistar's North America Truck and Parts, says.
Navistar's SCR-equipped trucks include the International ProStar, International PayStar 5900 and the International 9900i, which are all available with the Cummins ISX15. The ProStar can also be spec'd with Navistar's 13-liter engine. The heavy-duty WorkStar model includes two variations – 7600 SBA (46-inch set-back axle) and 7600 SFA (30-inch set-forward axle). Both models feature a 113-inch from bumper to back-of-cab.