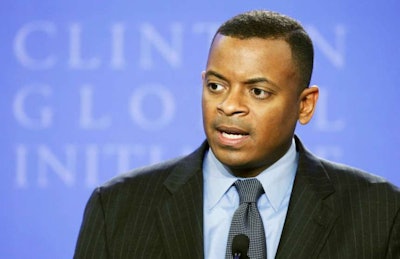 What should Anthony Foxx's No. 1 priority be as new Secretary of Transportation?
Perhaps doing something his predecessor wasn't able to do and find a way for Congress and the White House to deliver a comprehensive, long-term highway funding bill, writes Kevin Jones on Overdrive sister site CCJ. 
MAP-21 was short and didn't do much to address arguably the biggest issue facing transportation: Decline in infrastructure investment, Jones writes.
President Barack Obama has been interested in other areas of focus, like healthcare reform and energy, Jones writes, and has been busy fighting political battles.
In his non-partisan post, Foxx must find a way to ensure that infrastructure has funding, seeing as how the Highway Trust Fund is predicted to become insolvent in just two years, and if truckers and trucking companies are paying more for road use to keep funding up, Congress shouldn't designate funds to programs that don't bolster freight movement and, more importantly, don't push trucks off the road, Jones writes.